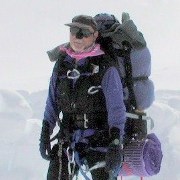 Photo: Alan Arnette
On November 24, 2010, Alan Arnette began his journey to climb the seven peaks around the world to raise awareness for Alzheimer's disease, a condition that affected him personally. Arnette took care of his mother, Ida Arnette, who suffered from Alzheimer's disease; she passed away in August 2009.
In just under a year, Arnette completed his goal of climbing the seven summits and raised money for Alzheimer's disease organizations he selected, including the Cure Alzheimer's Fund, the National Family Caregivers Association and the Alzheimer's Association.
Since beginning his journey, Arnette has shared his experience of being his mother's caregiver, given advice to caregivers of parents with Alzheimer's disease, and provided updates on his progress. Now that he has completed his journey to climb the seven peaks, Arnette talks to EmpowHER about how he kept going, what he plans to do next, and how others can become advocates and raise awareness for Alzheimer's disease.
You have completed your goal of climbing all seven peaks to raise awareness for Alzheimer's disease. Looking back at your journey, what were your most difficult obstacles to overcome? How did you keep yourself going?
It was easy to keep going because we cannot give up on caregiver support or finding improved treatments and a cure. However, there were certainly challenges such as eight days trapped in a tent at 17,200' on Denali waiting out weather; an immobilizing sprained ankle on the descent from Kilimanjaro; labor strikes in Papua preventing flights; and wondering sometimes if I was making a difference.
With each challenge came a clear memory of my mom and all those suffering from this disease and of course my purpose.
Tags: