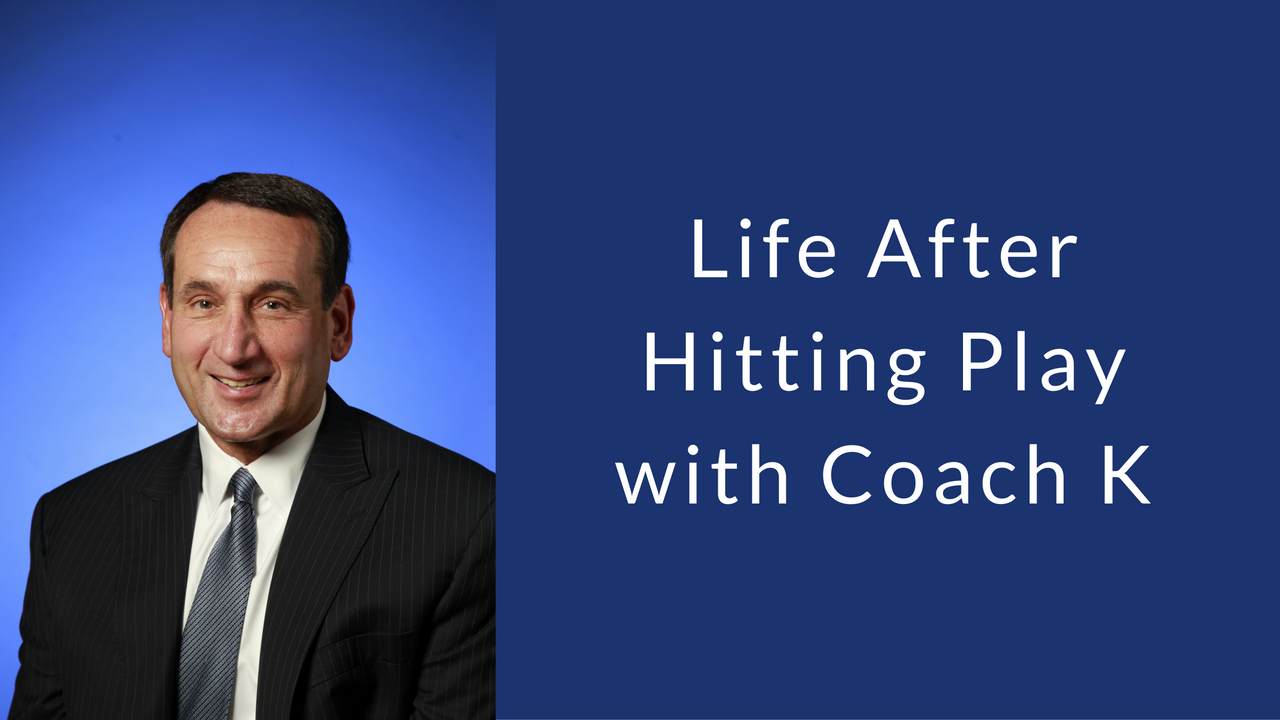 As Men's Head Basketball Coach at Duke University, Mike "Coach K" Krzyzewski is known for being the winningest coach in men's college basketball history. While his career in sports has brought him many accolades on the basketball court, it was the decision to undergo total joint replacement to help his chronic hip and knee pain that made him feel like his life was back in play. We talked to Coach K and his daughter Debbie about the fears, realities and successes that came after deciding to stop letting pain put his life on pause and getting hip and knee replacements.
On taking time away from work
Coach K
I put off my first hip replacement surgery when my doctor initially told me I'd need it, because I didn't want to miss work. With all the work we put into the season, me being out of commission was just out of the question. But I actually think we lost the National Championship that year because I was in so much pain. I quickly realized that what I thought was going to take me away from my work - surgery and rehab - actually was what I needed to do so that I could get back to work and back to living my life fully.
Debbie
I think a lot of people feel that way about not wanting to miss work. He felt like the team, the school, the fans, and our family were all depending on him, but we all knew he had to take the time to take care of himself. He was scared that getting surgery would set him back, but living with pain is what really does that.
On finally hitting play and deciding to go through with surgery
Coach K
I just couldn't live that way anymore. The pain was draining my energy so much that I wasn't able to bring my best to the court. I was coaching from a chair and thought I was going to have to give up the job I love. Having to constantly focus on my joint pain took my focus off of my job, off of my family. I just felt like my family, my kids, my grandkids and my work were all happening and moving around me but I was stuck.
Debbie
The whole family participates in Dad's coaching job. So I'd see him every game, limping onto the court, coaching from a stool. His abilities, his mood, his passions, were all suffering and he was missing out on the things he once found so much enjoyment in. It was just hard to see him go through that day in and day out.
On recovery
Coach K
Rehab was tough, but it was worth it. Afterwards, this wave of stuff you used to do comes rushing back. I was able to go back to work and my family with a clearer mindset. I wasn't worried about pain anymore so I could be more present and focused. Plus, I was working out more - I had forgotten how good it felt to work out when I had my bad hip.
Debbie
Well, the way we look at Dad coaching is that "It's not his job, it's our program." So it was the same with rehab - this wasn't just Dad's rehab. We were all in this journey together and supported him because we knew all he wanted to do was get back to being a dad, husband and coach.
On life after hitting play
Coach K
Since my first hip replacement surgery I've been able to coach 17 more years. I had my other hip replaced 13 years ago and my knee replaced in April, 2016. I have a new lease on life. I can't even imagine my life without the surgery. I have nine grandkids who I love. I can get down and play with them, without having constant pain bringing me down. I couldn't imagine missing that.
Debbie
He was so much more energetic when he came back from the surgery. Even the players noticed improvements in his mobility, his moods, his energy. He wasn't drained. He was focused. He could be fully present again and with all the people who love him, from shooting guards to grandkids.
On what you can do to take action
Coach K
I've learned a lot going through joint replacement surgery, and encourage others who may be putting their lives on pause, to hit play and talk to their doctors. You should learn as much as you can - TimetoHitPlay.com is a great place to start.
Debbie
I'm proud of my dad for taking action and learning about all the options available for people suffering from joint pain. TimetoHitPlay.com is a valuable resource if you have a loved one living their life on pause because of chronic joint pain.
Brought to you by:
Important Safety Information
The performance of hip and knee replacements depends on age, weight, activity level and other factors. There are potential risks, and recovery takes time. People with conditions limiting rehabilitation should not have surgery. Only an orthopedic surgeon can tell if hip and knee replacement is right for you.
Read more in Hit Play Resources