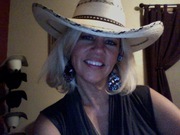 ask:

Does anyone have any experience using the HCG Weight Loss plan?
I've just met with my doctor about my weight gain. Last year about this time, I went into menopause. I stopped having my period, stopped sleeping through the night, lost a lot of hair, my skin went dry, I noticed patches of brown spots appearing on my face and hands, I lost my interest in intimacy with my husband, I forgot simple things like "why did I walk into this room again?", I was irritable, and I gained about 20 pounds! It was about this time that I read a book by Suzanne Somers called "Breakthrough: Eight Steps to Wellness." She talked about using bio-identical hormone replacement therapy and in a rhythmic dosage rather than a static dosage. I talked to my doctor about it and she prescribed an estriol cream to be taken vaginally 1-2x per week as needed, and a progesterone cream to be taken for two weeks on and two weeks off. She also prescribed melatonin and 5htp to help me sleep. I'd also read about L-Arginine to help with hot flashes. Those things helped but didn't fully alleviate my symptoms so I kept doing research on menopause and it's symptoms. I found a method of dosage and delivery for bio-identical hormone replacement therapy called The Wiley Protocol and asked my doctor about it. She had JUST heard about it herself. So, we agreed to embark on the adventure of trying it to help me. So far it's worked to alleviate all of my symptoms with the exception of my WEIGHT! ARg.
So, I went through the same steps of research and found a hormone called HCG for weight loss, did my homework and learned that my own doctor prescribes it! Thus, starting tomorrow, I will be injecting myself with this hormone that is only produced by pregnant women. Ironically, two other women in my office are also starting this very weight loss plan this week. I'm just looking for others online who have had experience with this and what they have to say about it.
Tags