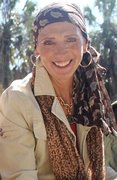 share:

The Case of the Missing Eyebrow
What does a woman do when she wakes up and discovers half of her eyebrow missing? No, it was not one of those college pranks in which mischievous things happen while sleeping. This is alopecia rearing it's ugly head again. My 11-year battle with this disease has provided tears, joy, disappointment, embarrassment, resignation, strength, growth, wisdom and now, half an eyebrow.
I'm resigned to the fact that the productive follicles I've enjoyed for the past few months are living on borrowed time. The partially missing eyebrow may be a warning sign of what is to come next. Am I prepared? I thought I would be, but let's face it - we live through hopes and dreams and I had hoped this would be my final full-blown struggle with this disease. I'm cool with the partial eyebrow - just dusting off my eyebrow kits and steaming my beaubeaus. Alopecia will have the final word on my hair, but it won't rule, ruin or control my life.
Susan Beausang
President 4Women.com