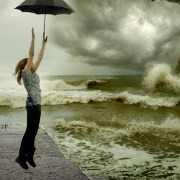 Photo: Getty Images
A friend of mine recently had to make a difficult choice. Her son was having emotional/anxiety problems which was disruptive at school. With the school principal's advice she hired a tutor to come to her home every day to help him.
In planning for the following year, she again met with the principal to discuss the options, and discovered that the school had a new program that was just right for her son.
Should she continue with the tutor whom she knew to be successful, or take a chance on the new program which sounded on the surface to be even better? She wasn't sure what to do, chose to stay with the tutor, and then said that she "prayed that she made the right decision."
That phrase worries me. I don't want to think of her continuing to wonder if she should have made a different choice because that's the way to start a tornado of self-doubt. Once you make an important decision I think it's important to avoid second-guessing yourself and go through the decision process again and again. If you change your mind to option B, then you will wonder if you should have stuck with option A; if you go back to A then you'll wonder if you should have stayed with B, and so on… a tornado going 'round and 'round in your head. Talk about stressful!
I'm not advocating that you forget about it and get on with your life, far from it. I'm saying that once you've made a decision with all the information at your disposal, stay with it and begin to monitor the results rather than worry if you should have decided differently. If there is specific evidence that you should have made a different choice, or new information that affects the decision, then you go into damage control mode and find the best way to migrate to another option.
When you make an important and difficult decision, stay with it unless you have new evidence or new information that makes a difference. All you can do is the best you can with the information that you have. To second-guess yourself is to start a never-ending spiral that is difficult to escape.
Dealing with cancer, some other major illness, or life in general?