EmpowHER at The Women's Conference 2010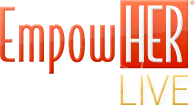 Michelle King Robson

Dr. Archelle Georgiou

Catherine Bach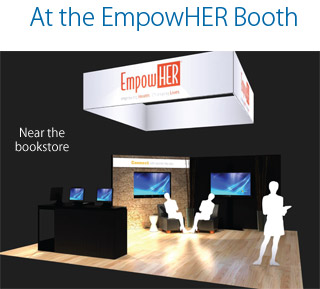 Featured Video
Debbie Haderle tells Michelle King Robson her health story about how she suffered from back pain and overcame it.
Dr. Archelle Georgiou speaks with Dr. Annabelle Volgman at the Women's Conference on ways women can advocate for their heart health and symptoms indicating there might be a problem.
Watch The Interview
Actress and activist Catherine Bach interviews Katherine Schwarzenegger about her book, "Rock What You've Got", a tell-tale and advice giver that promotes inner beauty and self-esteem.
Watch The Interview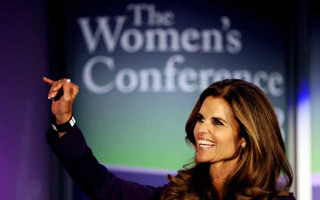 THE WOMEN'S CONFERENCE MISSION
The mission of The Women's Conference has been to educate, inspire and empower women to be Architects of Change. Hosted by First Lady Maria Shriver and Governor Arnold Schwarzenegger from 2003 to 2010, the conference became the nation's premier forum for women.
We invite you to explore a rich archive of informational and inspirational videos and photos, blogs and interviews, as well as special features on issues that shape your life – health, life balance, work & money, activism and much more. You also can watch seven years of amazing conference speakers & sessions and behind-the-scenes video & photos. It's all on www.womensconference.org.
CLICK HERE to watch Maria Shriver's speech from The Women's Conference 2010

Maria Shriver joined with the Alzheimer's Association to release The Shriver Report: A Woman's Nation Takes on Alzheimer's, an examination of the impact of Alzheimer's disease on American women.
This report is a comprehensive, multi-disciplinary anthology of every facet of Alzheimer's disease – medical, sociological, political, and economic.
It addresses the urgent need to focus more attention on Alzheimer's -- because if we don't, Alzheimer's will not just devour our memories, it will also break our women, cripple our families, devastate our healthcare system and decimate the legacy of our generation. Read the report to learn where we stand and what we must do. http://www.shriverreport.com/
Learn More
The Women's Conference® Articles
I don't necessarily feel old, but when I found out that I had high cholesterol, I suddenly felt like complaining about today's pop music and screaming at kids to get off my lawn.
Do you avoid red meat? Opt for local? Know what "the dirty dozen" means -- and always buy organic? Me too. Unfortunately, it turns out that's not enough.
Nutritious meals and inexpensive meals don't have to be mutually exclusive!
Most folks know that eating organic fruits and vegetables can reduce exposure to carcinogenic toxins. However, in this economy, sometimes our wallets override our emotions.