Heart Health Resources

Latest News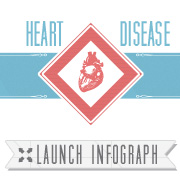 Heart Disease
Take a look the heart disease affects across the country, by the numbers.
Take A Look!
Sometimes, being number one isn't a good thing. Unfortunately for women, heart disease is no longer a disease reserved only for the Type-A corporate male executives. Not only do women get heart disease, but it remains the number one killer of women.
Read Full Story
Since heart disease remains the number one killer of women in the United States, why not add getting heart healthy to your list of New Year's resolutions this year? While improving your heart health might seem overwhelming, it can be easy with a little careful planning and strategy.
Read Full Story
Let's face it. Most of us spend more time in sitting in front of the computer or behind the wheel of a car than we do engaging in any type of physical activity. If you're concerned about your heart health, then increasing your levels of physical activity is essential.
Read Full Story
Strep throat can lead to some rather serious health complications, including inflammation of the kidneys and rheumatic fever. Rheumatic fever may lead to a serious heart condition referred to as rheumatic heart disease.
Read Full Story
Featured Expert Interviews
Dr. Malissa Wood explains how heart attack symptoms, risk factors, and treatments are different in women compared to men.
Watch This Video
Dr. Stephanie Moore recalls the risk factors that increase an individual's likelihood for heart failure and shares preventive tests and lifestyle changes.
Watch This Video
Heart Health Polls