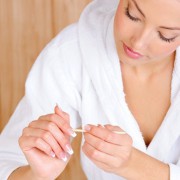 Photo: Getty Images
Cuticles are an underappreciated part of our nails--until they start to bother us. The main cause of cuticle irritation comes from dryness, either from lack of moisture or from the drying effects of chemicals, soap and even the cold weather.
Role of cuticles:
Our cuticles provide a barrier between our skin and our nails, creating a main line of defense against bacteria. Cuticle skin is soft and because they curve up at an angle towards the nail, they are susceptible to being scraped, punctured or torn. It is also easy for cuticles to become damaged or infected from too rough a manicure or from contact with nail tools that have not been sufficiently sterilized.
How to protect them:
● Moisturize: Rubbing lotion on your hands is not the same as paying special attention to your cuticles. Use a good quality moisturizer on your hands every day and spend a little extra time putting more on your cuticles, massaging the lotion in to rehydrate them.
● Never cut your cuticles: Instead, use a wooden cuticle stick to push them back gently. Never push back dry cuticles, they will just split and become more inflamed. A good time to push them back is after a shower or after soaking in warm water.
● Don't bite your nails or cuticles: Use a clipper and file your nails instead. Take special care if clipping a hangnail to avoid introducing bacteria into the nail fold and causing a paronychyia to develop. See my article on paronychyia at www.empowher.com/skin-hair-amp-nails/content/paronychia-infection-nail-fold Cleanse clipping tools with alcohol after use to keep them from harboring bacteria that can cause infections.
● Avoid using nail polish that has formaldehyde and use acetone free nail polish remover. Both formaldehyde and acetone are drying to both the nail and the cuticle, setting them up for potential irritation.
● Be choosey in selecting a nail salon. Look around to see how clean the place is. Are there containers that are being used for sterilizing or are they filled with used manicuring tools that are awaiting cleaning? Do the manicurists frequently wash their hands or wear gloves?
What to do with damaged cuticles:
Tags: