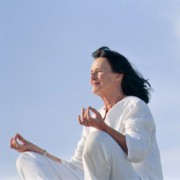 Photo: Getty Images
The hangover after Thanksgiving, Christmas and New Year celebrations is most visible for many of us in the form of the extra pounds we host through January. It may be a little discouraging way to start the New Year, especially for the elderly, for whom the weather and the effort may be too daunting to get into a regular and mainstream exercise regime.
The Pranayama (or controlled/regulated life force) is a convinient method for all individuals with the exceptions of those suffering from heart conditions, hypertension, epilepsy, stroke or those who are pregnant, have ulcers or a hernia.
There are specific Pranayama that tackle particular problems or sets of conditions by working on the physical, mental and emotional planes of an individual. For example, the Kapalbhati is one such powerful Pranayama that is an effective fat burner.
As with all Pranayama, consistency is required in practice to gain sustainable results. It should be kept in mind that the Nadi-Shoddhan Pranayama should precede the Kapalbhati Pranayama. The details of performing the Nadi-Shoddhan Pranyama have been set out for you in the EmpowHER.com article "System Detoxification With Nadi-Shodhan Pranayama" http://www.empowher.com/wellness/content/system-detoxification-nadi-shodhan-pranayama
Here is the method of executing the Kapabhati Pranayama:
1. Sit on a mat on an even floor.
2. You may choose any asana that is comfortable to you.
3. Keep the spine straight, shoulder relaxed and the body firm. Place your wrists gently on your knee holding your palms facing upwards in Gyan mudra-- i.e., the tip of the index finger and tip of the thumb should be joining/meeting.
4. You may close your eyes if you are comfortable doing so.
5. Now, perform a short forceful exhalation through your nostrils which results in the contraction of your abdominal muscles.
6. This is to be followed by peaceful inhalation wherein the abdomen is allowed to expand and air is allowed to fill the lungs as a natural, unforced process. That is to say, allowing the inhalation to occur completely passively without the application of any additional effort.