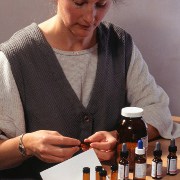 Photo: Getty Images
According to the latest statistics by the National Health Interview Survey, "an estimated 3.9 million U.S. adults and approximately 900,000 children used homeopathic medicine."
The National Center for Complementary and Alternative Medicine (NCCAM) website revealed ʺmore than one in three adults use some form of complementary and alternative medicine (CAM). For women and older Americans, those numbers are even higher—two out of five report using CAM.ʺ
Homeopathic medicine, also known as homeopathy, was first developed in Germany in the 1800s. Homeopathic medicine was introducted to the United States in the late 1800s or early 1900s.
According to the Royal London Hospital for Integrated Medicine, ʺhomeopathy is based on the idea of treating 'like with like'. Medicines which can produce an illness matching the one from which the patient is suffering are prescribed, aiming to stimulate the body's own healing.ʺ
The Royal London Hospital for Integrated Medicine website stated ʺthere are several key features of homeopathic medicine.ʺ
• Minimum dose. Homeopathic medicines range from concentrated tinctures to extremely dilute medicines, some so dilute that the original substance may not hold a trace of the original substance. It is thought that the water and alcohol mixture in which the dilutions are made retain a 'memory' of the substance.
• Idiosyncrasy. What is unusual or atypical about you or the health problem from which you are suffering?
• Constitution. The type of person, including build, personality, general physical features, for instance, a tendency to feel the heat or the cold.
• Holism. Described as treating the person, not the disease. Questions about your lifestyle, eating habits and preferences, sleep patterns and state of mind all help build up a complete picture.
Homeopathy treatment can be used alone or to complement traditional medical treatments. For example, one friend of mine who is a cancer survivor uses traditional chemotherapy treatments but also applies homeopathic treatment to curb his nausea. His medical team works together to make sure there are no complications or side effects from the combination of medicine.
The FDA regulates homeopathic treatments. Midwives, veterinarians, naturopaths and traditional medical doctors may practice homeopathic medicine.
If you are considering using homeopathy, it is very important to inform your physician and homeopathic physician about the types of medications and supplements you are currently taking. This is important because some homeopathic treatments ʺmay have an effect on conventional medicineʺ treatments.
Finally, the NCCAM recommends the following tips if you are interested in discussing or incorporating homeopathic options with your traditional health care practitioner. These tips include:
• Be proactive. Ask your provider about homeopathic options and use.
• Ask your health care providers about its safety, effectiveness, and possible interactions with medications (both prescription and nonprescription).
• Make a list of all over-the-counter and prescription medicines in advance.
• When completing patient history forms, be sure to include all therapies and treatments you use.
• Tell your health care providers about all therapies or treatments—including dietary and herbal supplements.
References:
For Patients. Tell your health care provider about your use of CAM[NCCAM]. (National Center for Complementary and Alternative Medicine [NCCAM] - nccam.nih.gov Home Page. Retrieved January 18, 2012, from http://nccam.nih.gov/timetotalk/forpatients.htm
Homeopathic Definition | LIVESTRONG.COM. LIVESTRONG.COM - Lose Weight & Get Fit with Diet, Nutrition & Fitness Tools | LIVESTRONG.COM. Retrieved January 18, 2012, from
http://www.livestrong.com/article/107587-homeopathic-definition/#ixzz1jpGZwBM2
Homeopathy. UCLH Internet - University College London Hospitals. Retrieved January 18, 2012, from
http://www.uclh.nhs.uk/OurServices/ServiceA-Z/INTMED/IMHOM/Pages/Home.aspx
Homeopathy: An Introduction [NCCAM Backgrounder]. National Center for Complementary and Alternative Medicine [NCCAM] - nccam.nih.gov Home Page. Retrieved January 18, 2012, from http://nccam.nih.gov/health/homeopathy
What Is Homeopathic Healing? | LIVESTRONG.COM. LIVESTRONG.COM - Lose Weight & Get Fit with Diet, Nutrition & Fitness Tools | LIVESTRONG.COM. Retrieved January 18, 2012, from
http://www.livestrong.com/article/115296-homeopathic-healing
Reviewed January 18, 2012
by Michele Blacksberg RN
Edited by Jody Smith