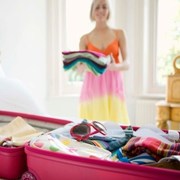 Jupiterimages/Polka Dot/Thinkstock
Tis the season to travel -- the two weeks you've worked for all year -- the needed break from daily life.
The Vacation!!!
You're excited and you can't wait to get on the move. Clothes are packed, the travel toothbrush in its case, and your beach read in the bag.
Do you have everything you need?
Think back on other vacations and past trips. Did you forget that irregularity could hit you like a ton of bricks and ruin everything? Yeah, that's right.
Constipation is the furthest thing from your mind when tucking that sexy sundress into your suitcase, but add these six preventative measures to your travel checklist and your troubles will be over.
1. Water
When you're traveling, drinking the required amount of water isn't usually high on your list, but being hydrated is essential to avoid constipation. So, drop a reusable water bottle in your purse or back pack and refill it with water often.
2. High-fiber nibbles
Sometimes, a relaxing vacation doesn't include a well-balanced meal. If you're stopping at fast food joints during highway travel or indulging in rich foods at the upscale, resort restaurant, your digestive system is crying for some fiber.
So, don't forget to bring along some healthy snacks such fruit and veggies, nuts, seeds, or cereal bars that are high in fiber.
3. Exercise
When you're confined to a plane or a car for long periods of time, walking from the airport to the subway or cruise ship does not give you the adequate amount of exercise needed to escape bowel movement issues.
So, instead of sitting at the gate waiting for the boarding announcement, walk up and down the terminal a few times at a fast pace. If you're driving, pull into a rest stop and take a hike around the grounds. Just do it.
4. Answer the call
Many people tend to avoid airport or any public restrooms because of germs or just being rushed, but when nature calls it's a good idea to listen. Thinking that a bowel movement will return when it's more convenient is a fantasy you want to avoid.
5. Dehydrating beverages
Most vacations include alcoholic drinks and caffeinated beverages such as coffee, tea, and cola drinks which eliminate water from your body and cause dehydration. If you can't avoid these types of beverages, drink at least one cup of water in between to keep your body hydrated.
6. Laxatives
If nothing else relieves a stopped-up system, try an over-the-counter laxative and take as directed before bedtime with some water to follow. Most likely, relief will arrive when the sun comes up.
Sources:
How to Handle Constipation While Traveling. Everyday Health. Web. 16, July, 2012
http://www.everydayhealth.com/health-report/guide-to-constipation-relief/constipation-while-traveling.aspx
Water: a fluid way to manage constipation. Webmd.com Wed. 16, July 2012
http://www.webmd.com/digestive-disorders/water-a-fluid-way-to-manage-constipation
Reviewed on July 16, 2012
by Maryann Gromisch, RN
Edited by Jody Smith