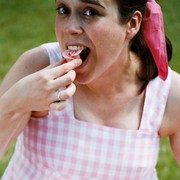 Photo: Getty Images
Pregnant women are often asked by their well-meaning friends if they are "eating for two". Though the volume of food being eaten by mums-to-be is of some concern, the more critical factor to consider is if the expectant mothers are "eating right".
In other words, the quality rather than quantity is something they should think about.
Scientists at the University of Cambridge and the Medical Research Council (MRC) Toxicology Unit at the University of Leicester have conducted research that clearly indicates that when the fetus is exposed to poor nutrition in the womb, it is more likely to develop health conditions such as diabetes, osteoporosis, age-related neural degeneration later in life. (1)
The study was conducted on both humans and rats. The factor that decides predisposition to diabetes later in life comes from a molecule that enables bodies to store fat in different regions.
It was observed that fetuses that were exposed to poor diet in their mother's wombs produced higher levels of this molecule than those fetuses who were better nourished.
So how does this molecule do that? This molecule works by suppressing a protein called GDF3. On studying a group of adult humans who were born with a low birth weight, the researchers found that GDF3 protein was present at around only 30 percent of the levels found in people born at a normal weight. (2)
Experiments on rats showed that a rat fetus exposed to poor nutrition got the fat storage factor incorrectly. After metabolization of food the fat was stored in the liver and around the abdomen, predisposing rats to develop overweight- and obesity-related conditions later. The rat model is considered fairly parallel to human systems for scientific studies.
According to Professor Willis, Director of the MRC Toxicology Unit, "Improving people's diets and encouraging exercise is clearly the best way to combat the epidemic of diabetes and diet-related disease which is sweeping through our society. However some people are at particular risk of these diseases, despite not looking visibly overweight. This research will hopefully allow us to help these people to take precautionary steps to reduce their likelihood of developing type 2 diabetes." (3)
This research is particularly important as it throws light on health conditions adults face in life that connects back to our fundamental biology which we are unaware of. In this case, by identifying a mechanism which connects maternal diets to diabetes and other weight-related conditions, research has made a significant contribution to the fight against the growing global epidemics.
The findings of the study were published in the January issue of Biotechnology and Biological Sciences Research Council's medical journal Cell Death and Differentiation. (4)
SOURCES:
1. How Poor Maternal Diet Can Increase Risk of Diabetes: New Mechanism Discovered; Science Daily News; January 2012; http://www.sciencedaily.com/releases/2012/01/120106110540.htm
2. Does maternal diet raise your diabetes risk?; The National Health Service - NHS Choices; January 2012; http://www.nhs.uk/news/2012/01January/Pages/maternal-diet-diabetes-risk.aspx
3. How poor maternal diet can increase risk of diabetes – new mechanism discovered; Biotechnology and Biological Sciences Research Council (BBSRC)- Latest News; January 2012; http://www.bbsrc.ac.uk/news/health/2012/120106-pr-poor-maternal-diet-risk-diabetes.aspx
4. Programming of adipose tissue miR-483-3p and GDF-3 expression by maternal diet in type 2 diabetes; Cell Death & Differentiation; January 2012; http://www.nature.com/cdd/journal/vaop/ncurrent/full/cdd2011183a.html
INFORMATION IN THIS ARTICLE IS NOT MEDICAL ADVICE. ALL INFORMATION GIVEN IS TO BE CHECKED WITH YOUR DOCTOR BEFORE IMPLEMENTING OR TAKING THEM AS STANDARD OR VERIFIED.
Mamta Singh is a published author of the books Migraines for the Informed Woman – Tips From A Sufferer: ISBN: 978-81-291-1517-1 (Publisher: Rupa & Co. URL: http://www.amazon.com/Migraines-Informed-Woman-Tips-Sufferer/dp/8129115174/ref=sr_1_2?ie=UTF8&s=books&qid=1298990756&sr=1-2), Mentor Your Mind – Tested Mantras For The Busy Woman: ISBN: 978-81-207-5973-2 (Publisher: Sterling Publishers; URL: http://www.amazon.com/Mentor-Your-Mind-Tested-Mantras/dp/8120759737/ref=sr_1_1?ie=UTF8&qid=1316063179&sr=8-1) and the upcoming The Women's Complete Fitness Guide (Publisher: Hay House India).
She is also a seasoned business, creative and academic writer. She is a certified fitness instructor, personal trainer & sports nutritionist through IFA, Florida USA. Mamta is an NCFE-certified Holistic Health Therapist SAC Dip U.K. She is the lead writer and holds Expert Author status in many well-received health, fitness and nutrition sites. She runs her own popular blogs on migraines in women and holistic health. Mamta holds a double Master's Degree in Commerce and Business. She is a registered practitioner with the UN recognised Art of Living Foundation. Please visit www.mamtasingh.com
Reviewed February 7, 2012
by Michele Blacksberg RN
Edited by Jody Smith
Tags: