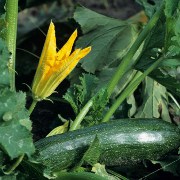 Photo: Getty Images
I've never met a french fry I didn't love and I've never met a person who doesn't feel the same. As delicious as fries may be, they're a huge hazard for your waistline. (A large fast food portion rakes in a whopping 500 calories!) Next time you're craving a big ol' plate of fries, forego the drive-thru and try one of these six unconventional approaches to the standard fry.
Parsnip Fries: Preheat the oven to 375°F. Peel parsnips and cut into fries. Toss 1 tablespoon of olive oil, and a dash of salt and chili powder in a large bowl. Add in parsnips and toss to evenly coat. Place them on a foil-lined baking sheet evenly spaced in a single layer. Roast for 40 minutes, tossing once at the halfway point. Serve warm with light sour cream or ketchup as a dipping sauce.
Portabella Mushrooms: Slice mushrooms into 1/2-inch thick slices. On a large plate, mix together 1/2 cup breadcrumbs, 1/2 cup Parmesan cheese, and your favorite Italian spice blend. In a bowl, whisk together eggs. Dip mushroom slices in eggs and then breadcrumbs. Place on a wax paper-lined and greased baking sheet. Bake in a 425°F oven for 12 minutes. Flip once.
Rutabagas: Preheat oven to 400°F and slice peeled rutabaga into fry-sized pieces. Spray with cooking spray (or a drizzle of olive oil) and toss with salt and red chili powder. Bake for 20 minutes, flipping once.
Zucchini: Preheat oven to 425° and slice two zucchinis into 3-inch sticks. Whisk one egg white with a drizzle of milk. Combine 1/2 cup Parmesan cheese and 1/2-cup breadcrumbs in a separate bowl. Dip zucchinis into egg mixture, and then roll in breadcrumb mixture. Bake for 30 minutes or until crisp and brown.
Chickpeas: (Even though chickpeas aren't finger-shaped like fries, they have a similar hearty crunchiness to fries.) Preheat oven to 400°F. Drain and rinse one can of chickpeas and dry thoroughly. Pat dry. Toss peas in with 1 tablespoon olive oil, 1 teaspoon sea salt, and spices of your choice. Bake for approximately 30 minutes or until crispy. While baking, shake pan or stir chickpeas to avoid burning.
Edited by Jody Smith