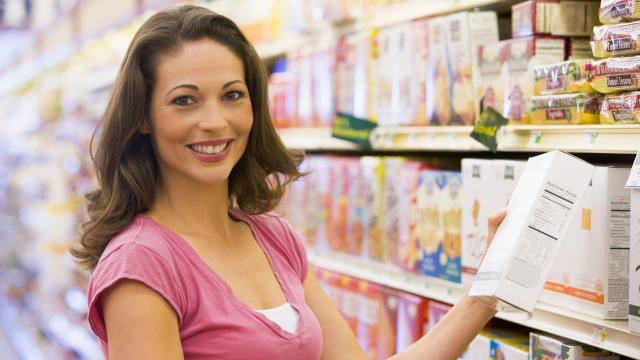 MonkeyBusiness Images/PhotoSpin
Nutrition labels are often difficult to navigate when deciding which foods to eat. Next time you scan through a food label, look out for these 10 ingredients.
1) Partially Hydrogenated Oils
Some foods may be labeled as having 0 grams trans fat, but that doesn't necessarily mean they are completely trans-fat-free. When partially hydrogenated oil is listed as an ingredient, that food may still have up to half a gram of trans fat per serving. Trans fat increases the amount of LDL or bad cholesterol while lowering the amount of HDL or good cholesterol in the body.
Ingredient found in: French fries, cake mixes, fried chicken, microwave popcorn
2) BHA (Butylated Hydroxyanisole)
BHA can often be found in foods that are able to maintain a long shelf life as the ingredient helps food taste better for a longer amount of time. Studies have shown that BHA can cause cancer in rats, mice and hamsters. Because the cancer occurred in the forestomach, which is an organ humans don't have, the FDA has not yet banned BHA, according to a Men's Health article.
Ingredient found in: Butter, cereals including Fruity Pebbles and Cocoa Pebbles, potato chips
3) High-Fructose Corn Syrup
High-fructose corn syrup has been connected to several health issues including obesity, diabetes, hypertension and weight gain. Although high-fructose corn syrup and table sugar are similar in their chemical makeup, the human body handles both ingredients differently, a Mayo Clinic article said.
Ingredient found in: Soda, salad dressing, sauces, fruit-flavored drinks
4) Food Dyes/Food Colorings
Many processed foods rely on food dyes and colorings to mask their original bland color. Studies show that the artificial colorings can be linked to cancer and other serious diseases. Food dyes and colorings can be spotted on nutrition labels by the name of a color followed by a number.
Ingredient found in: Jell-O, candies including M&M's and Skittles, soda, frosting, cereal
5) Sodium Nitrate and Sodium Nitrite
Sodium nitrate and sodium nitrite are most common in processed meats, as the ingredients help them maintain their pink color. When consumed, sodium nitrite can mix with amino acids and turn into nitrosamines, which are carcinogenic, a Men's Health article said.
Ingredient found in: Processed meats, ham, salami, Oscar Mayer hot dogs
6) MSG (Monosodium Glutamate)
MSG helps enhance the flavor of several foods. Although MSG is not banned by the FDA, they have received reports of symptoms including nausea, headache, weakness and heart palpitations from people who consumed foods with the ingredient.
Ingredient found in: Soup, canned vegetables, Chinese food
7) Parabens
Parabens, a common ingredient in cosmetics, can also be found in some foods. The ingredient works as a preservative to keep mold and bacteria out of food, but they can also harm the body's hormonal balance.
Ingredient found in: Some fruits and vegetables, pastries, cakes, jelly coating on some meats
8) Castoreum
Castoreum is often difficult to find on food labels because it is typically listed as a "natural flavoring." Although the FDA doesn't see castoreum as harmful, many are grossed out by the ingredient because it comes from beavers' castor sacs, located close to the anus.
Ingredient found in: Foods labeled with "natural flavoring" or "natural ingredients"
9) Potassium Bromate
Potassium bromate is illegal in several countries because studies have found the ingredient to cause cancer in rats and mice. The ingredient is most common in bread because it helps flour age quicker, whitens dough and makes bread more soft and fluffy. By the time bread is finished baking, there is hardly any potassium bromate left, but if bread isn't cooked through enough or too much of the ingredient is added, it can be harmful.
Ingredient found in: Breads
10) Artificial Flavors
Artificial flavors offer no nutritional value because they are unnatural and chemically created. The ingredient is found in several foods to help improve their flavor, but can be harmful to human organs and is linked to cancer.
Ingredient found in: Breads, soup, cereals, flavored yogurt, many processed foods
Resources:
8 Ingredients You Never Want to See on Your Nutrition Label. Men's Health. Retrieved May 18, 2014. http://eatthis.menshealth.com/slideshow/8-ingredients-you-never-want-see...
20 Ingredients to Memorize and Avoid In Any Food You Consume. Waking Times. Retrieved May 19, 2014. http://www.wakingtimes.com/2013/03/04/20-ingredients-to-memorize-and-avo...
The Truth About Potassium Bromate. LiveScience. Retrieved May 18, 2014. http://www.livescience.com/36206-truth-potassium-bromate-food-additive.html
What is high-fructose corn syrup? What are the health concerns? Mayo Clinic. Retrieved May 19, 2014. http://www.mayoclinic.org/healthy-living/nutrition-and-healthy-eating/ex...