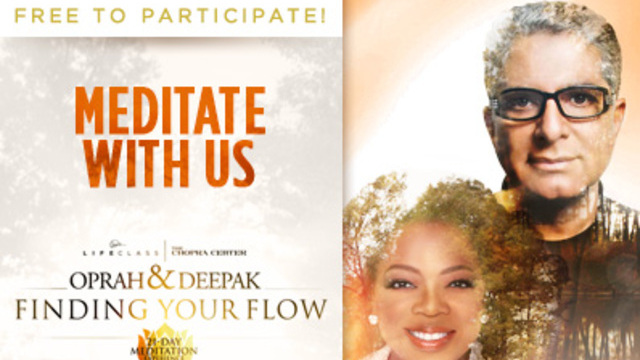 Ready to spring clean your mind? Your mental health and well-being is a vital aspect of your overall health. Did you know that there is a flow of powerful energy that permeates every aspect of our reality? When aligned with this flow, we're tapped into the pure, unlimited source of all peace, possibility and potential.
Join us along with Oprah and Deepak on April 14, for their all-new 21-Day Meditation Experience—Finding Your Flow!
This FREE 3-week journey is designed to help you discover how to experience and influence your own energy flow—a dynamic current that brings more joy, love, and fulfillment to you . . . through you . . . and for you. Oprah and Deepak will be your personal guides, every day.
Tap into the collective power of meditation as you meditate and journal with the 21-Day Meditation global community. Over 2 million people from around the world have participated in this original transformational meditation program, mastering the art of living well. Whether you've journeyed through an authentic meditation experience such as Miraculous Relationships or Desire and Destiny—or you're new to meditation altogether—Finding Your Flow will transform your life.
This life-changing journey is free and open to friends of EmpowHER —worldwide! We encourage you to invite your friends and loved ones to join you and experience:
Daily messages and guided meditations to connect you to the source of pure, infinite energy
Practical tips and wisdom to help you discover and leverage your own inner energy
A worldwide community of like-minded individuals exploring the gifts of meditation
There is no charge to participate. Access the daily meditations and journal easily from
your smart phone, tablet or computer from wherever you are.
Sign up now for our 21-Day Meditation Experience—Finding Your Flow to receive your
welcome information and get on the path to activating your personal flow.