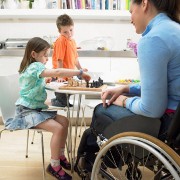 Photo: Getty Images
Stigma is a part of everyday life for most people, but for those women who are part of stigmatized groups, it can be devastating to their emotional health if they don't know how to cope properly.
One example of a stigmatized population is women with physical disabilities.
Rhoda Olkin, a distinguished professor at the California School of Professional Psychology, had polio when she was only 1 and grew up with her disability. According to Medline Plus, polio is "a viral disease that can affect nerves and can lead to partial or full paralysis."
Since Olkin had an early-onset disability, she has had to cope with stigma throughout her life. In the process of developing her career as a psychologist, she has experienced more stigma with supervisors than with clients.
"As a therapist with a disability, clients assume things about me that are actually very helpful for therapy," Olkin said. "They assume I know what suffering is, they assume I know what it means to be downtrodden or stigmatized, and assuming that I'm empathic. Those are positive things to attribute to a therapist, whether they're true or not. So it's often been a helpful thing as a therapist."
Olkin can attest to the stigmatization of the physically disabled population.
"Stigma in general means that a person is thought of as being 'other,'" Olkin said. "It's like a big separation between us and them … people with disabilities have always been thought of as the other."
She said people without disabilities have kept this stigma going.
"People without disabilities have lots of ways that they perpetuate that, because the idea that disability can happen to anyone is very very threatening and scary," Olkin said. "The more you divorce yourself or distance yourself from disability, the more you protect yourself from the idea that it could happen to you."
Stigma can have a lot of negative effects for those who are being stigmatized, including discrimination, prejudice and stereotypes. For example, children with disabilities were not allowed in school for many years. In other cases, people with non-disabilities treat people with disabilities as if they are inferior.
Olkin also brought up the use of microaggressions, which is commonly associated with ethnic or racial minorities and sexual orientation, but also for people with disabilities.
"Microaggressions are acts or behaviors by other people that make you aware of your minority status and have a comment about your inferiority," she said.
She gave the example of an African American person going into a store, and the manager monitors that person just because of race and stereotypes.
"For people with disabilities, microaggressions occur multiple times in the day, both through the environment and through interactions with other people," Olkin said.
She gave an example of people without disabilities taking up handicapped parking spots
"You haven't had an interaction with a person directly, but nonetheless it suddenly made you aware of the fact that you are a person with a disability, that you have 'special needs,' and those needs are not being met," Olkin said. "Those needs can be trampled upon by other people."
She said these microaggressions can have negative effects on mental health, productivity and social interaction.
Because these microaggressions and stigma in general are everywhere in daily life for people with disabilities, Olkin gave a few suggestions for ways people with disabilities can handle these situations.
"You have to learn to ignore a part of your environment, which seems odd because in some ways you're hypervigilant," Olkin said, including thinking about accessible aisles in stores. "At the same time, if a mother yanks her kid out of my way, and I'm thinking, '…What is she teaching her kid about disability,' … a part of me is saying this is not worth getting upset over, this is not something I want to hold on to."
She added that there are certain situations where ignoring is not the best solution.
"Sometimes picking a battle that you do want to fight can be enormously empowering," Olkin said.
Finding support with other people who have disabilities can be helpful. This can be an informal or formal support group. Basically, it can just be a social network that includes people with disabilities.
"Being in a community of people … where your disability becomes irrelevant, and yet also a group of people where your disability is something that can be talked about in a way that it can't be with non-disabled people," Olkin said.
For people who don't have disabilities, knowledge is key to removing the stigma and microaggressions, as well as ignorance regarding stereotypes.
"Some of the more common assumptions about people with disabilities is that they have lower intelligence, that they are asexual, that they are dependent and more helpless than other people, or conversely that they're kind of super-people," Olkin said.
She added that religion can play a part – some believe that God chose only certain people to have disabilities because they are special or because someone else in the family committed a sin.
Olkin described a cartoon where one person in a wheelchair is in an elevator with non-disabled people, and all the non-disabled people are looking at the ceiling so they don't appear rude by staring at the wheelchair.
"That's the kind of behavior that makes it so awkward, when somebody meets me and they don't want to look down at my wheelchair and I can feel them not looking down," Olkin said. "It permeates the social interaction, and I think it's because people without disabilities are not used to interacting with people with disabilities."
She added that people with disabilities complain that those without disabilities won't touch them.
"In these daily interactions, you're made aware that you're a stigmatized status," Olkin said. "The thing that non-disabled people can do is just relax and don't be afraid to make mistakes and try to act naturally … always ask before you help. Never just help."
Parenting with a disability can also be a challenge, especially because of the stigma involved.
"You don't have to do it like everybody else is doing it, you have to find your own way, and whatever way you do it is fine," Olkin said. "Kids love you for who you are, and it doesn't really affect the relationship … your kids, who don't know any different, will absolutely accept it. It's other parents who won't accept it."
One website, www.disabled-world.com, has multiple steps people with sudden disabilities can use to cope, including removing stress and focusing on the present. Another website, called LifeTips, has advice for non-disabled people and disabled people for coping with disabilities. Look at the links below for more information.
What tips do you have for dealing with stigma, discrimination, stereotypes and prejudice regarding disability? Share your experiences.
Sources:
http://www.nlm.nih.gov/medlineplus/ency/article/001402.htm
http://www.disabled-world.com/disability/coping-disability-illness.php
http://handicap.lifetips.com/cat/56385/coping-with-disability/index.html