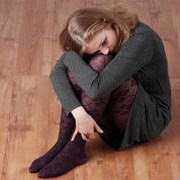 Piotr Marcinski/PhotoSpin
With comments in the media about "legitimate rape" and surrounding myths, it becomes clear that more information needs to be spread about the actual definition of rape, how women truly suffer when they are raped, and the recovery methods available.
Sheela Raja, an assistant professor and clinical psychologist at the University of Illinois at Chicago, said in an email that there are a few ways to define rape.
"The FBI defines rape as 'any kind of penetration of another person, regardless of gender, without the victim's consent,'" Raja said.
"Rape is non-consensual, the victim is in discomfort, fear or feels intimidated (if they are conscious). As with any traumatic event, their bodily integrity is threatened by the very nature of the crime."
There can be multiple mental health consequences from rape.
"Some consequences of rape include anxiety, depression, post-traumatic stress and difficulty forming close relationships," Raja said.
"Some survivors may cope with these painful feelings by smoking, overeating, drinking and other negative health behaviors, which of course take a toll on their short term and long term physical health."
Rape victims do have a chance to heal through treatment and coping methods.
"Cognitive-behavioral treatments have a great deal of promise for women who are struggling with anxiety and post-traumatic stress symptoms," Raja said.
"Treatments that are based on mindfulness techniques (that help you focus on the present moment) are very good in helping women re-build interpersonal relationships and manage difficult emotions. Finally, many women report that activism and community involvement can also help them heal from the trauma of rape."
Tina B. Tessina, an author and psychotherapist, said in an email that rape victims can suffer from mental health consequences after experiencing such a violent act.
"They display the symptoms of Post Traumatic Stress Disorder (PTSD) including nightmares, anger, grief, difficulty in future relationships and sexual connections, loss of self-esteem, Battered Women's Syndrome and other common leftovers of violence," Tessina said.
She has additional treatment suggestions for rape victims who need help coping and processing their traumatic experience.
"The treatment for PTSD is a combination of desensitization (reviewing and analyzing the scene of the rape until it loses its emotional impact), Cognitive Behavioral therapy (understanding that the rapist is always at fault – nothing excuses violent acts toward women; and gradually rebuilding self-esteem and creating safety), and other techniques, including spiritual counseling," Tessina said.
Silvia Dutchevici, the president and founder of the Critical Therapy Center, said in an email that individuals have different emotional responses to rape.
"The way one responds to rape is contingent on one's earlier history of trauma, support systems and how one views and defines the event," Dutchevici said.
"Some consequences: PTSD (post-traumatic stress disorder), panic attacks, substance abuse issues, shame, anger, irritability, inability to go on with life, depression, suicide."
Freda Emmons, a survivor of rape, wrote a book called "Flame of Healing: A Daily Journey of Healing From Abuse and Trauma." She shares her personal experience with mental health effects as a result of her multiple rapes.
"I was raped almost every night from about 1 year old through about 13 years old, from three members of my extended family," Emmons said in an email.
"I have suffered tremendous emotional trauma and have had a lifelong emotional climb out of the trenches of despair. My doctor has related the PTSD and the eating disorder I have directly to the rapes."
Although she tried counseling for 12 years, she said what really helped her recover from the rapes was her relationship with Jesus Christ and the Bible. However, it is still a lifelong process of healing that she is going through.
"I experienced a depth of healing that allows me to be active, rather than living stuck in a huge depression of emotional pain," Emmons said.
She said she suffered from the following mental health issues due to her rape:
1) "Low self-esteem."
2) "Confusion about sexuality."
3) "Confusion about what is a healthy relationship."
4) "Flashbacks and loss of good memories as my mind blocked the horrendous ones to help me survive."
Jonathan Miller, a therapist who works with sexual trauma survivors, said in an email that it's helpful for survivors to talk about their experience with a supportive group of people.
"If the emotional issues continue after thirty days, there's effective therapy for post-traumatic symptoms," Miller said. "Prolonged Exposure therapy is one of the best-researched and validated ... Even if survivors can't undo the assault, they can extinguish the anxiety, fear and shame that comes with memories of the attack."
Sources:
Raja, Sheela. Email interview. August 29, 2012.
http://www.sheelaraja.com
Tessina, Tina B. Email interview. August 29, 2012.
http://www.tinatessina.com
Dutchevici, Silvia. Email interview. August 29, 2012.
http://criticaltherapy.org/our-founder
Emmons, Freda. Email interview. August 29, 2012.
http://www.flameofhealing.com
Miller, Jonathan. Email interview. August 29, 2012. http://psychotherapysphere.com/about/
Reviewed August 30, 2012
by Michele Blacksberg RN
Edited by Jody Smith
Tags: