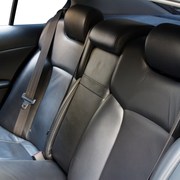 George Dolgikh/PhotoSpin
Before you hit the road, you may want to hit the gym. According to a new study published on the Emergency Medicine Journal website, "Findings ... suggest that obese vehicle drivers are more likely to die from traffic collision-related injuries than non-obese occupants involved in the same collision."
The study targeted statistics obtained from the National Highway Traffic Safety Administration, selecting only similar-sized vehicles. According to an article by Nicholas Bakalar on NYTimes.com, "The investigators gathered statistics on height and weight from driver's licenses and categorized the drivers of wrecked cars into four groups based on body mass index. "
Nearly 3,500 fatal accidents were analyzed. Those with higher than normal body mass index and considered overweight accounted for a more than 20 percent increase in fatalities. The most hazardous category tipping the scales at a more than 80 percent increase in fatalities were the obese.
According to the Centers For Disease Control, "More than one-third of U.S. adults (35.7%) are obese."
Perhaps the increase in fatalities among those who are overweight and obese could be a reflection of our changing population. The safety standards in cars are reportedly designed for those who are of average weight, said researcher Thomas M. Rice in an interview with NYTimes.com.
"Vehicle designers are teaching to the test — designing so that crash-test dummies do well. Crash-test dummies are typically normal size adults and children. "
According to USAToday.com, "An obese driver's lower body is propelled farther upon impact before a seat belt engages the pelvis. The driver's additional tissue prevents the belt from fitting snugly, but the upper body is held back."
The Emergency Medicine Journal researchers concluded that, "Education is needed to improve seat belt use among obese people, as is research to understand the potential role of comorbidities in injury outcomes."
According to an interview on USAToday.com with Keshia Pollack of the Johns Hopkins Bloomberg School of Public Health in Baltimore, "More testing is needed to understand the biomechanics of how bodies react in collisions." She told USAToday.com that there has been talk of using larger sized crash dummies.
Sources:
"Driver obesity and the risk of fatal injury during traffic collisions – EMJ.BMJ.com." Emergency Medicine Journal. Web. 22 Jan. 2013.
http://emj.bmj.com/content/early/2013/01/16/emermed-2012-201859.abstract
"Adult Obesity Facts – CDC.Gov." The Centers For Disease Control and Prevention." Web. 22 Jan. 2013.
http://www.cdc.gov/obesity/data/adult.html
"An Unexpected Road Hazard: Obesity - Nicholas Bakalar – Blogs.NYTimes.com" The New York Times. Web. 22 Jan. 2013
http://well.blogs.nytimes.com/2013/01/21/an-unexpected-road-hazard-obesity/?ref=nutrition
"Study: Obese drivers more likely to die in crashes – Cathy Payne, - USAToday.com - ." USA Today. Web. 22 Jan. 2013.
http://www.usatoday.com/story/news/nation/2013/01/21/obese-drivers-death-risk/1846475
Joanne Sgro-Killworth is a Television Fitness Expert, Certified Personal Trainer and Sport Nutritionist. She is Certified in Pilates, Pre-natal/Post-Partum, Yoga and Senior Fitness. She specializes in Weight Loss, Post-Rehab and Post Cancer Training.
Joanne's fitness plans and recipes are available globally on her website www.fitnessanswer.com/ She resides in the Phoenix, AZ area with her husband and son, where she runs her personal training business, Fitness Answer, LLC.
Reviewed January 23, 2013
by Michele Blacksberg RN
Edited by Jody Smith