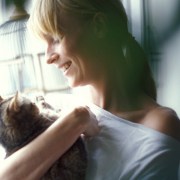 Photo: Getty Images
I am heartbroken. It is the only way that I can describe it. With each breath I take, I feel like there are cracks inside my heart. It physically hurts me when I think about it. Two days ago, we lost our beloved family pet.
Our cat was 12 years old. He was not sick and had as much energy and playfulness as when we first got him. He had been with us since he was about 8 months old. I never planned on having a pet but he chose us. He was a little stray kitten that made a big impression on a young couple when he followed us to our front door. I still remember the first time that I saw him. When I bent down to pet him, he put his two front, tiny gray paws on my knee and lifted his face up to mine to look into my eyes. He was special. I loved him from the very beginning. I never expected how hard it would be to lose him.
He has been with us through all the major events of our lives together. Our marriage, two moves, and three children. We have spent holidays and special occasions always with him. I have a special Christmas ornament for each year he was with us. I was not prepared for last year to be the last time that I would buy him an annual ornament.
He has been a loyal and loving friend. Our boys adore him. When we would play board games with our children, our cat would lie next to (and sometimes on) the game board. Always very social, he just wanted to be close to our family. Our cat would greet us at the door when we arrived home. I know that for a long time, I will miss the sound of his little bell that jingled as he ran to greet us about as much as his sweet little face. Eleven years he has been greeting us.
I never had pets as a child. Maybe that is why I am taking the loss of my cat so hard. I have learned just how much animals can become members of your family. I don't know how to mourn him. I don't know how to celebrate his life without feeling the sadness of his death.
It happened very unexpectedly and without any warning. On the morning that we were scheduled to leave for a brief vacation, I heard a unusual crying sound. I walked into the front room to notice him lying limp on the floor and his breathing was very rapid. Something seemed very wrong. I talked to him and stroked his soft fur while my husband scrambled to get dressed. He rushed him to the nearest pet emergency center but after testing, we were told that it was his heart and there was nothing that could be done to save him. I expected that we would postpone our trip to stay home and take care of him. I never expected that he wouldn't be coming back home.
What do you do when you don't get to say goodbye?
Edited by Alison Stanton