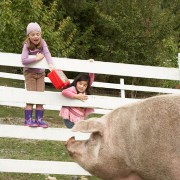 Photo: Getty Images
Old MacDonald had a farm, and on that farm he had chickens, pigs, cows and antibiotics--or so the story should go today on commercial farms.
For years, large-scale factory farms have routinely used antibiotics in livestock feed to promote faster growth in animals and help maintain their health in unsanitary, crowded living conditions.
But the practice has severe implications for the health of Americans, said several environmental and public health groups. On May 25, 2011, these groups filed suit against the U.S. Food and Drug Administration to urge the government to stop farmers from this dangerous practice.
"The longer we use these drugs, the less effective the arsenal becomes," said Margaret Mellon, a senior scientist at the Union of Concerned Scientists in a Washington Post article.
The organization, along with the Natural Resources Defense Council (NRDC), the Center for Science in the Public Interest, Food Animals Concern Trust and Public Citizen, filed the complaint in federal court hoping to bring more awareness to widespread antibiotic use in animal agriculture.
Today, about 70 percent of all the antibiotics used in the United States today are given to healthy farm animals, according to the Natural Resources Defense Council. The groups said this overuse of antibiotics has increased the prevalence of superbugs that infect people and do not respond to antibiotics.
"Those bacteria don't stay on the farm," wrote Peter Lehner, executive director of the NRDC on his staff blog. "They spread to humans and can lead to superbugs that are difficult or impossible to cure. Last month, for instance, 55,000 pounds of frozen raw turkey burgers had to be recalled because of a salmonella strain the Centers for Disease Control and Prevention said is immune to commonly prescribed antibiotics. Drug-resistant infections caused by these and other bacteria are estimated to cost Americans up to $26 billion every year."
Defenders of the practice said the animals receive low doses of medicine, but advocacy groups claimed the levels are high enough to allow bacteria resistant to antibiotic treatment to thrive.
Antibiotic resistance has been a growing public health concern, according to the American Medical Association (AMA). In 2010, the AMA provided testimony to the U.S. House of Representatives Subcommittee on Health of the Energy and Commerce Committee outlining a multi-faceted approach to help combat antibiotic resistance.
Back in 2009 the Obama administration said it would seek to ban routine use of antibiotics in farm animals. But the FDA has lagged in creating regulations.
Until new legislation is passed, you can avoid ingesting unnecessary antibiotics by buying organic meats that are labeled "raised without antibiotics" or talk to your butcher and find out the origins of your meat.
Suzanne Boothby is a Brooklyn-based wellness writer, certified health coach and co-founder of New York Family Wellness. Visit www.suzanneboothby.com to learn more.
Reviewed May 27, 2011
Edited by Alison Stanton