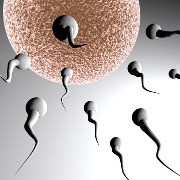 Photo: Getty Images
One could argue the many benefits of a younger woman dating an older man. Women typically mature at a quicker rate than men, older men provide more security and stability than their younger male counterparts and older men tend to fully appreciate -- and spoil -- the younger women in their lives.
But with the perks and positives come drawbacks, too. In terms of family planning, the younger-woman older-man pairing may miss the mark.
We've heard plenty about the risks of birth defects and miscarriage in older women who try to conceive, but a recent study published in the Oct. 3 online edition of the Journal of Medical Genetics found that older fathers have a genetic issue that could increase the risk for a child's intellectual disability.
Researchers from the department of human genetics at the University of Nijmegen in the Netherlands found that certain genetic abnormalities in a man's chromosomes appear to be linked to intellectual disabilities in his offspring if fathered later in a man's life.
"While it is commonly known that the risk of birth defects such as Down Syndrome increases with maternal age, this study shows that an increased paternal age is also an important factor," said study author Jayne Hehir-Kwa.
The researchers say that dads are more often the source of these gene aberrations than moms, having found that in 70 percent of cases, "deletions and duplications of DNA responsible for intellectual disability were inherited from the father."
Hehir-Kwa's team analyzed over 3,400 people with intellectual disabilities between 2006 and 2010 and looked for what they call "copy number variations" in DNA.
These "copy number variations" in genes include missing, repeated, inverted or misplaced DNA sequences and cause the abnormalities.
"An in-depth analysis of the parents of 118 of the participants revealed that the variations of 90 of the 118 came from the father. And 75 percent of these variations were missing DNA sequences," according to a release on the study.
But these outcomes remain very rare and the incidence of these mutations in men is not yet known.
Thus, it remains impossible to assign a specific level of risk for having a child with an intellectual disability at this time. And to muffle the known risks further, men cannot be tested for these variations because the variations are only found in sperm, which is constantly changing.
While older men are charming and easy to fall for, they're not as perfect as they seem.
Sources:
Older Dads Can Pass On Gene Mutations That Lower Intellect. HealthDay. Web. 5 Oct. 2011.
http://consumer.healthday.com/Article.asp?AID=657491
Pregnancy after 35. WebMD. Web. 5 Oct. 2011. http://women.webmd.com/pregnancy-after-35
Bailey Mosier is a freelance journalist living in Orlando, Florida. She received a Masters of Journalism from Arizona State University, played D-I golf, has been editor of a Scottsdale-based golf magazine and currently contributes to GolfChannel.com. She aims to live an active, healthy lifestyle full of sunshine and smiles.
Reviewed October 5, 2011
by Michele Blackberg RN
Edited by Jody Smith