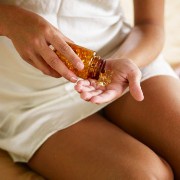 Photo: Getty Images
In my practice I see a number of women looking to become pregnant after having had a miscarriage or two, and sometimes three. What concerns me is the number of women who aren't properly worked up for basic lab-work such as vitamin levels, hormone levels, and complete thyroid testing. There is a lot when it comes to the thyroid test and recent research in the Journal of Clinical Endocrinology and Metabolism agrees with me (or I agree with them?)
Most pregnancy losses happen in the first trimester and are affected by multiple factors such as genetic, hormonal, immunity, infection, and anatomical issues. Research is showing that a TSH between 2.5mIU/L and 5mlU/L comes with an increased risk of loss and women with positive thyroid antibodies have a two-fold increased risk.
Additionally, I check the free T4 and free T3 levels as I have seen a normal TSH and the free levels show up low. This too can cause pregnancy loss, not to mention the myriad of low thyroid symptoms such as fatigue, weight gain, foggy brain, constipation, hard stools, and skin/hair changes.
The positive antibodies indicate an immune reaction against your thyroid which can affect everything in your whole system including fertilization and implantation.
If you are trying to become pregnant or have experienced a loss (or more), please have your provider check your thyroid including your antibody levels because it may not be as optimal as you think. You may want to consider thyroid replacement as a means to help you become and then maintain pregnancy.
Selenium and zinc have been shown to be helpful for thyroid function along with vitamin D. If your antibodies are elevated, I recommend a gluten free (no wheat) diet to lower the inflammation. There is a lot of research that shows antibodies or Hashimoto's (autoimmune thyroid) can really improve by changing your diet.
Don't wait until your third loss to get a full workup from your health care provider. Request that they are thorough and will check all of your hormones, vitamins and thyroid levels because if you can be pro-active from the start, you may have a significant less chance of a loss.