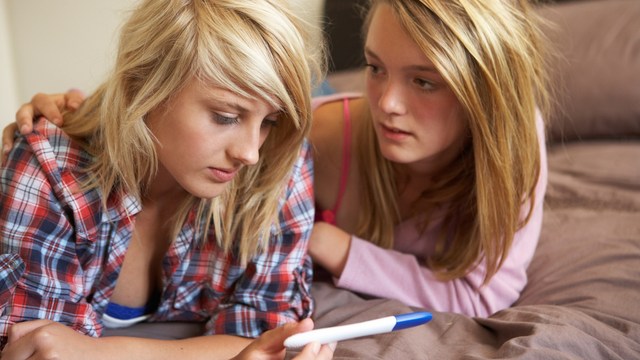 MonkeyBusiness Images/PhotoSpin
Teen pregnancy happens more often than you think. According to the Centers for Disease Control and Prevention (CDC) more than 329,797 babies were born to women aged 15–19 years in 2011.
As high as that number of teen births is, it's helpful to know that this is an 8 percent drop from 2010. Experts believe some of the reasons for the decline include more use of birth control and less sexually active teens.
While sexual development is a fact of life in your teen's life, it is also important to talk to your teen about sex and the possible consequence of becoming pregnant. Many times teens do not realize the long term consequences of becoming pregnant at a very early age.
Here are just some of those potential consequences:
• Teenage pregnancy is a significant contributor to high school dropout rates among girls
• Only about 50 percent of teen mothers receive a high school diploma by 22 years of age, versus approximately 90 percent of women who had not given birth during adolescence
• The children of teenage mothers are more likely to have lower school achievement and drop out of high school
• Children of teen moms have more health problems
• Incarceration rates are higher among children of teen parents
• Risk of poverty is higher among children of teen parents
Educating parents and teens, youth-friendly services, and prevention programs are all keys to preventing teen pregnancy and giving children the best future possible.
In addition there are some excellent resources for pregnant teens and their parents or guardians. These include the following:
CDC's Parent Information
http://www.cdc.gov/parents/teens/index.html
This site provides information about diseases, safety in the home and community, raising healthy teens, risk behaviors and engaging parents in school health.
Planned Parenthood
http://www.plannedparenthood.org/parents
Topics available here include helping teens set healthy boundaries, helping teens delay having sex, talking to an LGBT teen, and puberty 101 for parents.
The National Campaign to Prevent Teen and Unplanned Pregnancy
http://www.thenationalcampaign.org/parents/?gclid=CPymnpbxm6UCFYNl7AodEW_YGg
Some of the topics available include talking to your sons as well as daughters about sex, tips for starting the sex conversation with your teen, and girl talk.
Advocates for Youth
http://www.advocatesforyouth.org/parents-sex-ed-center-home
This website offers a plethora of information at the parent's sex education center. Types of information that can be found here include tips from parenting experts, tips on how to talk to your teen about sex, along with other important topics about teens and sex.
American Academy of Pediatrics (AAP)
http://www.healthychildren.org/English/ages-stages/teen/dating-sex/Pages/default.aspx
Gay, lesbian, bisexual teen issues, date rape, emergency contraception, teen parents are among some of the hard-hitting issues available at AAP.
Title X: The National Family Planning Program
http://www.hhs.gov/opa/title-x-family-planning
The U.S. Department of Health and Human Services' Office of Population Affairs (OPA) oversees and funds the Title X program which serves more than five million clients per year. OPA provides funding for more than 4,400 family planning centers throughout the United States.
Sources:
Centers for Disease Control and Prevention. Centers for Disease Control and Prevention, 05 Sept. 2013. Web. 13 Oct. 2013.
http://www.cdc.gov/TeenPregnancy/index.htm
"About Teen Pregnancy." Centers for Disease Control and Prevention. Centers for Disease Control and Prevention, 21 Nov. 2012. Web. 13 Oct. 2013.
http://www.cdc.gov/TeenPregnancy/AboutTeenPreg.htm
Reviewed October 14, 2013
by Michele Blacksberg RN
Edited by Jody Smith