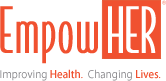 ---
It's typical that I get a sinus infection about once a yera, and I also have allergies. For the past 2 days, it is very painful when I swallow. The strange thing is, it is not my throat, but it's the area behind my nose. I also have excess saliva.
By Anonymous
Created 05/29/2011 - 05:50
Copyright © 2020 HW, LLC d/b/a EmpowHER Media unless otherwise noted. EmpowHER does not provide medical advice, diagnosis, or treatment.
---