Eating fruits and vegetables every day is one of the most important things you can do for your health. In fact, research shows that increasing your fruit and vegetable intake reduces your risk for chronic diseases. These include diabetes, heart disease, high cholesterol, high blood pressure and cancer.
The recommendation for fruits and vegetables is 7-13 servings of every day, according to Webmd.com.
Before you get too excited (or depressed) about 7-13 servings, just take a moment. Breathe. It is easier than you think to increase your servings and I'm going to tell you how to do it.
The key is to increase one serving of fruits or vegetables for a month, and then increase one serving size the next month. By the end of the year, you will have a completely different way of eating.
If you want to go big, I'm here to show you how to you can get in 10 servings of fruits and vegetables in one day. Read, and be amazed at how simple it is.
BREAKFAST: 3 servings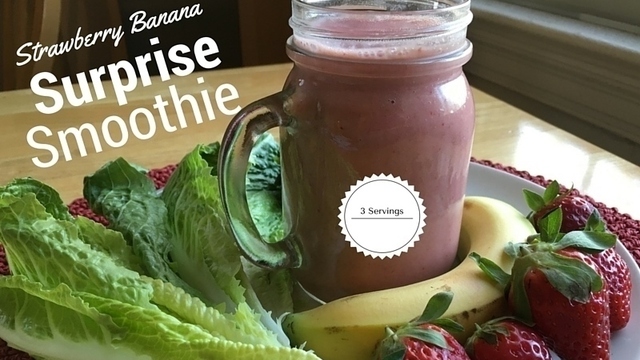 Let's start with breakfast! Smoothies are my breakfast of choice, because they are so fast and easy.
My favorites are a fruit/veggie combination. With three cups of raw fruits and veggies, that's three servings down first thing in the morning.
Try two servings of fruit and one serving of vegetables. I usually use lettuce spinach or kale.
Here is an example of a 20-30 ounce smoothie:
• 1 cup of fruit - berries, mango, pineapple — 1 serving
• 1 banana (it helps create thickness and mouth feel) — 1 serving
• 2 cups of greens - romaine lettuce, spinach, kale, carrots — 1 serving
• 1 cup of almond milk or dairy alternative
• 1 scoop of Juice Plus+ Complete Dutch Chocolate
• Ice cubes as needed
• Chia seeds to add some healthy omega-3 fatty acids
The addition of Juice Plus+ Complete makes it a meal jam-packed full of nutrition.
If smoothies are not your thing, there are other options that work. If you like eggs, make a veggie omelet or quiche. You can sauté a combination of two to three cups of mushrooms, onions and bell peppers and fold them into your omelet.
You can even get fancy and make a salad with a cup of baby arugula leaves, just like you might have as a brunch in a restaurant.
Or you could move away from breakfast foods all together, and just eat leftovers from dinner. Make sure that you are including a few ounces of protein and two to three servings of your veggies.
LUNCH: 3 servings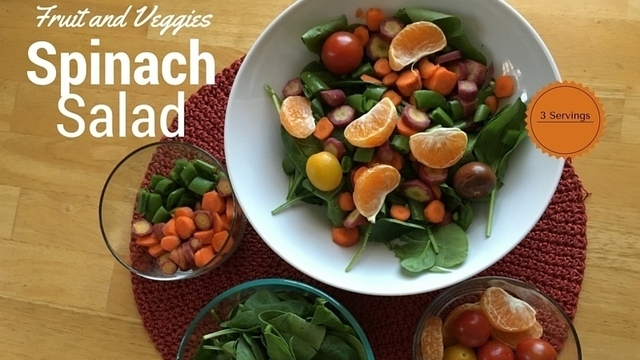 Lunch can be made up of hot or cold options. You can mix and match different options to fill you up. If you are a soup-and-salad type, consider one cup of soup with a small salad.
• 1 cup of vegetable soup — 1 serving
• A small salad containing 2 cups of lettuce and 1 cup of vegetables — 2 servings
If you are more of a sandwich person, consider a cup of soup and a sandwich loaded with veggies instead of meat. 1 cup of roasted vegetables and lettuce can become 1 ½ to 2 cups of vegetables. You can still have meat in your sandwich if you want. Just add extra veggies and it will definitely fill you up.
• 2 cup of vegetable soup — 2 servings
• Roasted vegetable sandwich — 1 serving
DINNER: 3 servings
If you make half your dinner plate vegetables, then you probably easily have two cups of vegetables. You can make both cups of the same vegetables or you have one cup each of two different veggies. You can always have a salad, or you can cook your vegetables. It is easy to get three servings in for dinner.
• Sautéed Vegetables — 2 cups of greens, which if sautéed, will cook down to one cup
• Roasted vegetables — 1 cup is 1 serving
• Stir-fry vegetables — 1 cup is 1 serving
• Casseroles with veggies, like vegetarian lasagna
SNACKS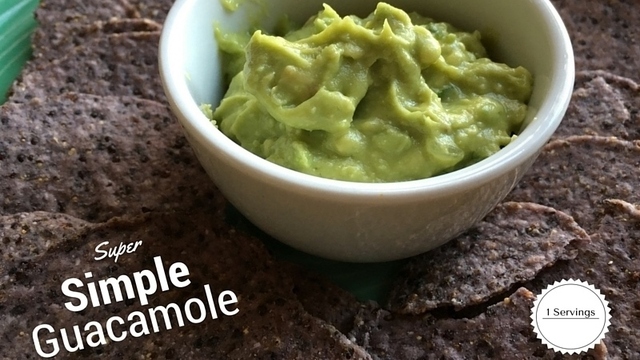 Mid-morning snack
Mid-morning snacks are great to help you stay focused. If you are working on weight loss or balancing your blood sugar, snacking on healthy whole foods is an essential part of the program. A serving size is just one cup.
Here are a few suggestions:
• 1 cup of carrot sticks or slices of cucumber with hummus — 1 serving
• 1 cup of celery with peanut butter — 1 serving
• 1 cup of traditional salsa, peach salsa, pineapple salsa with corn chips — 1 serving
Mid-afternoon snack
By 3 p.m. I love to have a small piece of fruit to sweeten my afternoon, and provide me with some quick energy. Mid-afternoon snacks might be essential if you have to run errands or go to a meeting before you are able to find time to eat dinner.
• 1 medium apple or pear or orange — 1 serving
• 1 cup of berries — 1 serving
• 1 cup of snap peas with veggie or hummus dip — 1 serving
• 1 cup of miniature bell peppers — 1 serving
Ready for your bonus now? Time for dessert!
DESSERT: 1 serving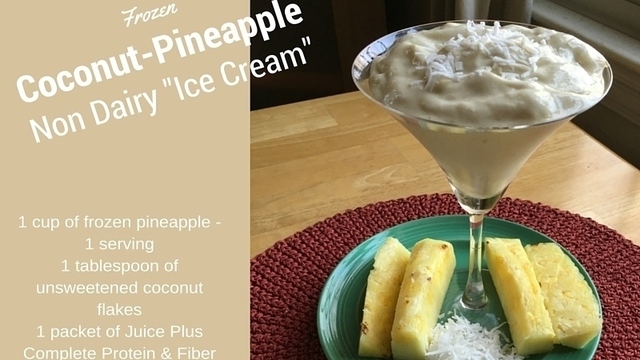 I love to have a little bit of something sweet after my dinner so I have come to love fruit pies. For example, I like to bake apples with cinnamon and some trail mix on top, similar to a cobbler. Sweet potato pie is another favorite.
So there you go! We have gotten in 10 servings of fruits and vegetables plus dessert.
Admit it — it was not as hard as you thought it would be. I'll bet you got a few new ideas about where you can add a few more servings to your daily routine!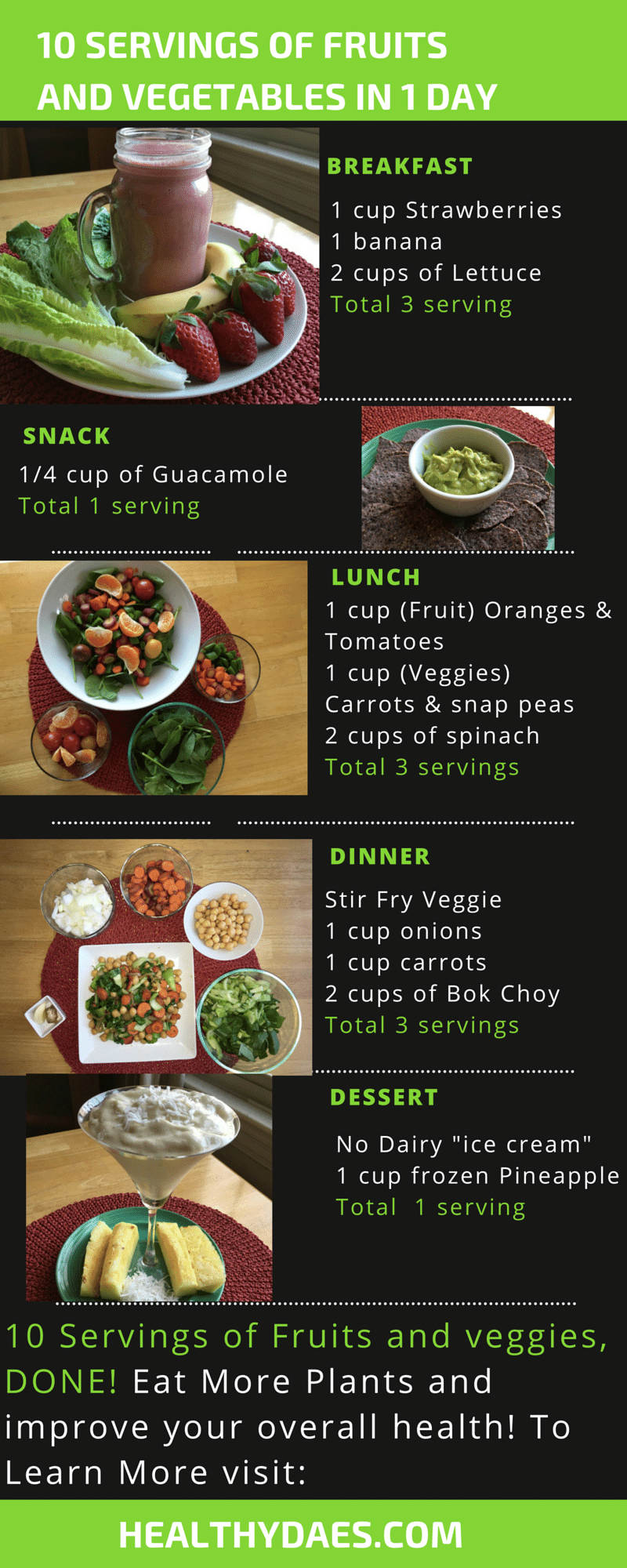 Live Vibrantly,
Dr. Dae
Dr. Daemon Jones
Dr. Dae's website: www.HealthyDaes.com
Dr. Dae's Bio:
Dr. Daemon Jones is your diabetes reversal, hormones, metabolism and weight loss expert. Dr. Dae is a naturopathic doctor who treats patients all over the country using Skype and phone appointments. Visit her or schedule a free consultation at her website www.HealthyDaes.com
Photos Courtesy of Dr. Daemon Jones
Reviewed March 24, 2016
by Michele Blacksberg RN
Edited by Jody Smith
Copyright © 2022 HW, LLC d/b/a EmpowHER Media unless otherwise noted. EmpowHER does not provide medical advice, diagnosis, or treatment.