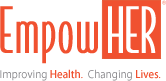 ---
Hello! I am from Bangladesh,and want to ask a question about the condition of my father's kidney,recent lab report shows his creatinine level in kidney is 297 umol/L.Can you help me giving answer about the stage of it ?
By Anonymous
Created 11/03/2016 - 06:37
Copyright © 2019 HW, LLC d/b/a EmpowHER Media unless otherwise noted. EmpowHER does not provide medical advice, diagnosis, or treatment.
---