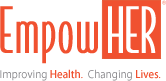 ---
My friend had unprotected sex a day after she finished her period, then she took postinor 2 within the ffg 24hrs, then she had another unprotected sex again five days after and took postinor 2 again, now she has been spotting/bleeding. What can she do?
By Anonymous
Created 11/12/2016 - 02:08
Copyright © 2022 HW, LLC d/b/a EmpowHER Media unless otherwise noted. EmpowHER does not provide medical advice, diagnosis, or treatment.
---