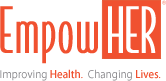 ---
I have emphysema and just started using the albuterol/ipatropium bromide combo in my nebulizer. I used it this am and got very nauseus. Do u need to eat first?
By Anonymous
Created 09/29/2017 - 11:56
Copyright © 2020 HW, LLC d/b/a EmpowHER Media unless otherwise noted. EmpowHER does not provide medical advice, diagnosis, or treatment.
---