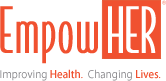 ---
AUDIO: Dr. Underwood Explains Why Women & Men Explain Heart Disease Symptoms Differently
By punderwood
Created 01/22/2008 - 18:09
EmpowHer Asks:
Does heart disease affect women differently than men?
Dr. Underwood:
Well, I believe that the perception of heart disease may be different in women than men. And so they are certain differences, say what blockages of the blood vessels feeding the heart … that often occurs at a later stage or a later time in life then it typically occurs in men.
And so women may be spared of coronary artery disease for 10 or 15 years due to the protective effect of the estrogens and so it may occur later but once it occurs it is just the same disease. Likewise the symptoms may be perceived as being a bit different in women than men. The way people describe chest discomfort or chest pain may vary between women who may describe it more of a discomfort or more of an upset stomach as opposed to a man who may come in saying he has a squeezing pressure in his chest. They give the idea of a typical heart attack person.
Paul L. Underwood Jr., M.D., is an interventional cardiologist in Phoenix, was the 10th president of the Atlanta-based Association of Black Cardiologists 2004-2006 (ABC), Inc.
Copyright © 2020 HW, LLC d/b/a EmpowHER Media unless otherwise noted. EmpowHER does not provide medical advice, diagnosis, or treatment.
---