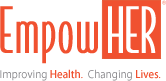 ---
Heading Off Headaches
By Tina Tran
Created 06/03/2008 - 10:18
Frankly, the last thing I usually want to do is focus on my headaches. The whole thing tends to make my cranky, but in light of National Headache Awareness week, I thought I'd point out a few videos that may actually help.

WATCH THIS: Headache Doctor Bernstein Explains Why Women Should Track Their Migraines
WATCH THIS: Dr. Bernstein, What Kind of Doctor Do I See About Migraines?
WATCH THIS: Dr. Bernstein, Why are Migraines an Illness?
WATCH THIS: Dr. Bernstein, Can Migraines Affect Your Vision?
Has anyone found a way to lessen their headaches? What works for you?
Copyright © 2022 HW, LLC d/b/a EmpowHER Media unless otherwise noted. EmpowHER does not provide medical advice, diagnosis, or treatment.
---