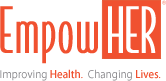 ---
Health Care Reform
By Tina Tran
Created 02/15/2008 - 09:11
Thanks to Alysia for asking a great question.
https://www.empowher.com/community/share/americans-demand-healthcare-ref...
Affordable health care has been an issue for decades, but are we any closer to reform in the health care system? Do you think the next president can make a difference in the American healthcare system? Give us your opinion.
Copyright © 2021 HW, LLC d/b/a EmpowHER Media unless otherwise noted. EmpowHER does not provide medical advice, diagnosis, or treatment.
---