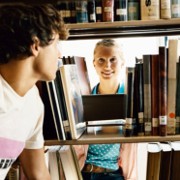 Photo: Getty Images
The sensation of love is a fantastic feeling to experience. It may stem from an instant attraction or develop gradually from a friendship. It can be triggered by a glance across a room or the spark of a first touch. But does love at first sight truly exist? I believe it does.
As a young twenty-something in college, I attended a house party on a cold and gloomy Saturday night. I nursed the heartbreak of my latest failed romance with a foamy beer in a plastic cup and tried to stay busy counting the cracks on the walls as I wondered how much longer my friend would make us stay at the party.
Then I saw him.
In a crowded room of strangers, this one person caught my attention. When he walked in, it seemed like beams of light from the heavens shined down on his angelic face. I heard the sound of harps ringing in my head. I felt the urge to reach out and touch his silky dark hair but I was frozen. I couldn't move. I couldn't breathe.
Instead of the causal attire that most of the party goers wore that night, he was wearing dark dress pants, a matching suit coat and a crisp white shirt. As I inched closer to him and his friends, I overheard him talking about a wedding he had just attended, an explanation for the clothes. The sound of his voice made my heart pound nearly right through my chest. From the corner of my eye, I saw him take off his coat and caught a glimpse of red suspenders. (It was the 90's, you know.) My heart fluttered all the more. Symbolic, as it would turn out. He would have those red suspenders wrapped around my heart for a while.
For a moment he looked my way, probably past me at a familiar face, and flashed a magical smile as his dark eyes sparkled. I imagine that I looked like a cartoon character with stars in the place of my eyes and little cupids swirling around my head as the lyrics of an old song rang through my mind. "Johnny Angel, you're an angel to me." And just like that, I was hooked.
That night, I was the original Lady Gaga. I was gaga over that guy and my head was spinning from the magic of that crush.
Love at first sight doesn't have to be a true love story and it doesn't have to work out. Even if it doesn't last I think love at first sight exists all the same and it can open your heart for the real thing.