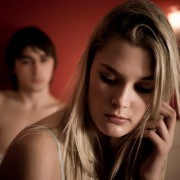 Photo: Getty Images
People change when they are in relationships. Many of these changes are hopefully considered improvements; however, some women feel that they have become so "wrapped up" in this one person, and so determined to make their relationship work and succeed like it is "supposed" to or "meant to", that they are unsure if it has become more of a habit and something to fix, rather than an equal partnership with an equally invested partner.
Here are what other women have said about their relationships, who have "lost themselves" in trying to change/fix the lack of physical intimacy:
Losing Yourself (for the "good" of the relationship):
I have become so wrapped up in why my man does not want me, that I have lost all confidence and that is wrong. He has his own issues, and I have added to them with my lack of self-esteem.
I think I love him more because I'm longing for him all the time; its not balanced love.
I love this guy so much, and I know its not worth losing yourself and your self worth. Sometimes we make a person TOO important to us.
Most men want to be with someone who is interesting, fun, smart and attractive. If you have no self-esteem left because your entire being is wrapped up in this one person....your best qualities will not be shining through, and you may not be bringing out his best qualities, either. If all you bring to the relationship is low self-esteem (and blaming him for it!), this is probably all you are going to receive in return. Do you want a guy who is looking for a woman with low-self-esteem, or do you want to be with someone who continually helps you grow, as they grow themselves?
Stop trying to change yourself to fit what you think he needs/wants, or to make him like you or find you attractive or have sex with you. Finding the right person is not about proving to yourself that you can get this guy, get him figured out or get him to give you attention. If the relationship does not work naturally, with you being you, it is not the right relationship.
One woman shared her story: "My relationship in the beginning: I will do anything for you, look after you, hug you, say 'yes' to sex whenever you initiate (even if it's inconvenient for me)...I don't mind. My relationship now: I have tried to please him so much (how many of us writing are 'people pleasers'!?), that this is now expected and normal behavior, and did not require any extra effort on his part to receive. Now that I have expectations for him, it's like, 'where the hell did this come from' attitude and I am accused of nagging, etc.".
Healthy Changes in a Growing Relationship
It is not uncommon for there to be a big change in sexual frequency after the first blush of a relationship wears off and a couple has gotten to a more comfortable, routine stage. It is actually a healthy maturation process of many romantic relationships.
Passionate Arguing Instead of Having Passionate Sex:
I've realized that we are both very passive-aggressive, and never really solve problems. It's like we fight intensely and passionately instead of having sex, because sex is too scary when we have unresolved issues and that would be like "giving in" and neither one of us wants to. We do want to, but we don't. Or can't. It's a habit now, and its his/my way of avoiding talking about "real" issues.
We Did It! Communication Outcomes:
He is feeling homesick and feels like he is stuck. I'm glad we talked about it, even though it was not exactly what I wanted to hear, I needed to know what was going on.
We talked, and he is stressed about my excitement with talk about us moving in together. We agreed to slow down a bit.
Relationships are subjective, and we hope this compilation of "best responses" can provide some helpful advice, new perspective or communication starters for you and your partner. Counseling is always a great option, as sometimes relationships are in a rut, become stagnant or unresolved issues cloud the possibility for reconciling other differences (inside and outside of the bedroom). Sometimes, however, the relationship is not meant to be, and breaking up is difficult to do.
EmpowHER experts, moderators and members have provided meaningful explanations, kernels of truth and other pearls of wisdom that we hope will resonate with you or your partner in finding resolutions to your relationship woes, or to help guide you into a gentle knowing of when to let go.
Being Honest with Yourself: Re-Evaluate What You Have:
Has your relationship just become a habit that's hard to break? I'm not honestly sure you are as "super in love" as you think.
Growing apart is a process that happens when one or both parties stop communicating, stop caring and sometimes fall out of love with the other person.
Sometimes we have to look at what is staring us is in the face, at times we are hard headed to see things that may hurt us.
A one-year relationship should not be such hard work! This is the time where everything is supposed to be easy. You should not have to "drag" your boyfriend anywhere, "drag" conversation out of him, "drag" him to bed or argue about it.
Re-evaluate if this relationship is actually right for you. I believe in fighting for love, and working on a relationship, but if the other person is not interested...the relationship needs to end. and that's OK. not every relationship is going to work out.
I think you are determined to mold this man into your perfect and ideal man and he's just not who you want him to be.
If you have spoken to him about your concerns, and he knows how you feel---but nothing changes, then this is how he is. You now have all the information you need to decide if this is the relationship you want, and you have the power and choice to make that decision today or sometime in the future.
The bedroom issue is important, for sure. But so often the bedroom situation reflects things going on in other parts of our lives.
It is up to each individual person what is best for them, for their future, and to know yourself well enough to know what type of relationship you want, what type of partner you want, and how you want to feel being around your partner. Does this person bring out your best qualities, and do you bring out their best traits as well? Is your relationship all work and no play? Are you happy with what you have, or do you find yourself wanting changes...and it begins feeling like an empty well of never-ending changes. Do you want what you have now?
More Relationship and Sex Words of Wisdom:
- You asked, and men answered! Best Responses From Men: Why Won't He Have Sex With Me?.
- Is Your Male Partner Withholding Physical Affection or Sex? Helpful Advice From Women.