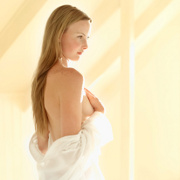 Photo: Getty Images
First, don't panic. You can experience a white milky vaginal discharge and you can also experience a white milky nipple discharge.
An odorless, white milky vaginal discharge is perfectly normal and a white milky nipple discharge is very rare.
First, let's tackle the white milky discharge ʺdown southʺ.
According to the American Academy of Family Physicians website, ʺglands inside your vagina and cervix make small amounts of fluid. This fluid flows out of the vagina each day, carrying out old cells that have lined the vagina. This is your body's way of keeping your vagina healthy and clean. The discharge is usually clear or milky and doesn't smell bad.ʺ
Also, the website stated, ʺThe color and thickness of the discharge change with your monthly cycle. The discharge is thicker when you ovulate (when one of your ovaries releases an egg), when you breastfeed or when you're sexually excited.ʺ
If you notice a change in the smell of your discharge, color of the discharge or itching, you may be suffering from a vaginal infection and need to see a physician. These infections are known as:
• Trichomoniasis
• Bacterial vaginosis
• Yeast infection
For additional symptoms you can go to http://familydoctor.org/familydoctor/en/diseases-conditions/vaginal-discharge/symptoms.html
Also, to avoid vaginal infections remember to:
• Always wipe from front to back.
• Avoid perfumed or colored products like toilet paper, bubble bath, tampons or maxi pads.
• Avoid douching and feminine hygiene sprays.
• Wear cotton underpants during the day.
• Don't wear underpants at night.
• Avoid wearing tight-fitted clothing (biking shorts, leotards, panty hose, etc.) for long periods of time.
• Change your laundry detergent or fabric softener if you think it may be irritating your genital area.
• Sperm-killing agents and latex condoms may irritate might cause an allergic reaction.
• Shower or wash your genital area daily and pat dry.
Finally, let's discuss white milky nipple discharge.
According to the National Institutes of Health, ʺa milky nipple discharge is rare in men or women, but it does occur. When it occurs in men or in women who have never been pregnant, it is likely to be caused by an underlying disease. The likelihood of nipple discharge increases with age. It is somewhat common in women who have had at least one pregnancy or are in the final weeks of pregnancy.ʺ
The website also stated ʺthe nipple discharge has many other causes that are NOT breast cancer.ʺ These may include:
• "Witch's milk," a term used to describe nipple discharge in a newborn. The discharge is a response to hormones from the mother before birth, and should disappear within two weeks.
• Pregnancy, usually during the second trimester
• A tumor in the brain called a prolactinoma or microadenoma
• Widening of the milk ducts (called ductal ectasia), normally not a cancerous problem
• A small, noncancerous growth in the breast called an intraductal papilloma
• Use of certain drugs, including birth control pills, cimetidine, methyldopa, metoclopramide, phenothiazines, reserpine, tricyclic antidepressants, or verapamil
• Severe hypothyroidism
• Breast abscess located underneath the areola (most commonly seen in women during breastfeeding)
• Injury to the breast or chest wall (milky discharge)
References:
Vaginal Discharge | Overview -- FamilyDoctor.org. Health Education | Illnesses, Diseases & Conditions -- FamilyDoctor.org. Retrieved February 9, 2012, from http://familydoctor.org/familydoctor/en/diseases-conditions/vaginal-discharge.html
Vaginal Discharge | Causes & Risk Factors -- FamilyDoctor.org. Health Education | Illnesses, Diseases & Conditions -- FamilyDoctor.org. Retrieved February 9, 2012, from
http://familydoctor.org/familydoctor/en/diseases-conditions/vaginal-discharge/causes-risk-factors.html
Vaginal Discharge | Symptoms -- FamilyDoctor.org. Health Education | Illnesses, Diseases & Conditions -- FamilyDoctor.org. Retrieved February 9, 2012, from http://familydoctor.org/familydoctor/en/diseases-conditions/vaginal-discharge/symptoms.html
Nipple problems: MedlinePlus Medical Encyclopedia. National Library of Medicine - National Institutes of Health. Retrieved February 9, 2012, from http://www.nlm.nih.gov/medlineplus/ency/article/001515.htm
Reviewed February 9, 2012
by Michele Blacksberg RN
Edited by Jody Smith