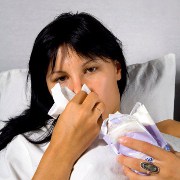 Photo: Getty Images
"Sinus surgery is a very common and safe operation," according to the MedlinePlus tutorial provided by the National Institutes of Health. Allergies or infection can cause inflammation of the sinuses, and the passage to the nose can be obstructed, causing mucus to accumulate. Allergic sinusitis can progress to infectious sinusitis, as pathogens grow more easily in the sinuses when mucus drainage is blocked. Long-term inflammation may lead to the growth of nasal polyps, which further block the flow of both air and mucus. Surgery is an option to remove polyps and enlarge the passage from the sinuses to the nose. A deviated septum of the nose may also cause obstruction that can be corrected with surgery.
Safety is important, but how well does sinus surgery work? Dr. Zachary M. Soler and Dr. Timothy L. Smith of Oregon Health and Science University provided a review of the literature. There is a "wealth of evidence" demonstrating improvement after sinus surgery, they reported, "however, a 'statistically significant' improvement may not necessarily translate into a clinically relevant change as perceived by the individual patient."
Quality of life before and after surgery are measured by questionnaires, including the Sino-Nasal Outcomes Test-22, with the acronym SNOT-22. This is available online (see references). Studies using SNOT-22 and similar questionnaires show that most patients can expect improvement after sinus surgery, "but will likely still be left with some measurable burden of illness". Soler and Smith noted that surgery is generally reserved for patients who have already tried maximum drug treatment without success.
The surgical option has become more common since the introduction of minimally invasive endoscopic sinus surgery in 1985, according to a report by Dr. Giridhar Venkatraman and colleagues at the Dartmouth-Hitchcock Medical Center and the Dartmouth Institute for Health Policy and Clinical Practice in New Hampshire. In a study of Medicare records, they found that endoscopic sinus surgeries increased from 3.34 to 5.43 per 1,000 Medicare recipients per year during the period 1998 to 2006. Most patients had multiple procedures. The older method of open sinus surgery is still in use, but much less common and on the decline. The rate of chronic rhinosinusitis diagnosis has remained stable, while the overall rate of sinus surgery has increased.
Venkatraman recommended more patient education on this increasingly popular treatment option.
References:
1. MedlinePlus tutorial on sinus surgery:
http://www.nlm.nih.gov/medlineplus/tutorials/sinussurgery/htm/index.htm
2. Soler ZM et al, "Quality of life outcomes after functional endoscopic sinus surgery", Otolaryngol Clin North Am. 2010 June; 43(3): 605-12.
http://www.ncbi.nlm.nih.gov/pubmed/20525514
3. Sino-Nasal Outcome Test-22 (SNOT-22):
http://www.entuk.org/clinical_outcomes/clinical_outcomes/documents/SNOT
4. Venkatraman GV et al, "Trends in endoscopic sinus surgery rates in the Medicare population", Arch Otolaryngol Head Neck Surg 2010 May; 136(5): 426-30.
http://www.ncbi.nlm.nih.gov/pubmed/20479369
Reviewed July 7, 2011
by Michele Blacksberg R.N.
Edited by Alison Stanton
Linda Fugate is a scientist and writer in Austin, Texas. She has a Ph.D. in Physics and an M.S. in Macromolecular Science and Engineering. Her background includes academic and industrial research in materials science. She currently writes song lyrics and health articles.
Tags: