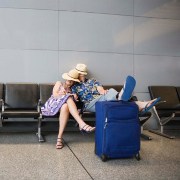 Photo: Getty Images
I love to go on vacations. The hard part, for me, is preparing and getting there. Traveling is the worst part. Airports, airplanes, rental cars, shuttles and more. These are things that I would do without if I could.
Last year, my husband and I were very excited to take a five day trip to Cancun minus our kids. We were meeting three other couples, who are long-time friends of ours.
Days were leading up to our departure and I was carefully packing and preparing the instructions for my mom, who was taking care of our boys while we were gone. There was a lot to do and I started to have late nights.
With the decreased nightly sleep, I remembered to double up on my vitamins. I couldn't wait for my five day trip of drinks by the pool and fun in the sun. I was determined not to get sick.
Finally, the day had arrived for our trip. After I checked and double checked on everything for the kids, we loaded our carry-on bags into the car, grabbed our boarding passes, passports and IDs and we were off to the airport.
Traveling without kids is about a million times easier and less stressful. I was practically skipping through the airport, pulling my bag behind me as the wheels happily clicked over the tiles on the airport floor.
The whistling of the Andy Griffith song played over in my head. As I waited for my husband at the restroom, I recognized the signs of a tantrum in progress as a mother and her little boy slowly walked my way.
Her husband was far ahead of her with their other child and more bags than he could carry. He hadn't noticed that she had stopped.
Once out of the bathroom, my husband and I rushed over to offer to help her with bags as she scooped up her son who was refusing to walk or pull his own mini-suitcase. She was incredibly appreciative of our help.
We had experienced her pain many times before and we were traveling light that day so we were happy to help. We chatted as we walked over to their gate and met up with her husband.
I handed her some lollipops, which I carried out of habit. We wished them luck on their flight and headed over to our own gate.
Once on board, we held hands like newlyweds and I couldn't stop smiling as I thought of the cocktails, relaxation and fun awaiting us. The plane was almost full but we thought that we were lucky to have the right side of the row to ourselves. I got my headphones ready and switched the airline television to HGTV.
When the drink cart came through, I didn't hesitate to order my first margarita of the day. I was barely into my third sip when I heard the sound of a rustling bag across the isle from me, which was a person getting violently sick.
This was about the time that I wished someone was sitting in the empty seat to my left to block the sights and sounds that I tried desperately to overlook.
I wished that I could have offered to hold her bag. I would have liked to have been a more helpful person but my gag reflex is not as strong as one would think for a mother of three. It was all I could do to balance my own stomach with the commotion that was happening only a few seats away.
And as badly as I felt for the girl, I still cursed myself for ordering the $8.00 margarita that I would have no chance of finishing. With five vacation days ahead of us, I prayed that she was only airsick and it wasn't the flu.
The flight there was the only "bump in the road" and the rest of of the vacation was better than I had hoped. Sometimes it doesn't matter how you get here, just that you make it.
Edited by Malu Banuelos