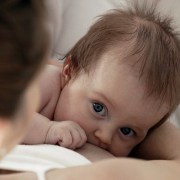 Photo: Getty Images
According to the Centers for Disease Control and Prevention (CDC), a new survey reveals "new moms don't get the breastfeeding support they need from hospitals."
In a written statement, Dr. Thomas R. Frieden, Director of the CDC, said, "Hospitals play a vital role in supporting a mother to be able to breastfeed."
MSNBC said the CDC survey revealed the following information about breastfeeding and hospitals:
• Nearly 80 percent of hospitals supply formula to new moms and newborn infants

• Only 4 percent of U.S. hospitals offer an extensive breastfeeding program
• "Rooming in" is only practiced in one-third of hospitals. (Rooming in is when babies and mothers stay together after the birth. This allows for more frequent breastfeeding.)
According to the CDC, three out of four new mothers in the United States breastfeed.
Dr. Frieden went on to say, "Hospitals need to better support breastfeeding, as this is one of the most important things a mother can do for her newborn. Breastfeeding helps babies grow up healthy and reduces health care costs."
Medical experts agree breastfeeding benefits the mother as well the baby. Mothers who breastfeed have a decreased risk of breast and ovarian cancers. Breastfed babies are less likely to develop asthma and become obese. Also, antibodies in breast milk help infants fight off infections.
Also, CBS News reports "more breastfeeding could save the lives of 900 babies per year."
"Breastfeeding is one of the most important things a mother can do for her newborn. Those first few hours and days that a mom and her baby spend learning to breastfeed are critical," said Dr. Frieden.
Breastfeeding provided economic as well as several health benefits. For example, the Office of the Surgeon General states some of economic benefits of breastfeeding include:
• Per family, an annual $1,200–$1,500 savings (cost of baby formula)
• $13 billion dollar annual reduction in medical and other costs, if 90 percent of U.S. families breastfeed for six months
• Healthier infants mean less health insurance claims
The CDC recommends hospitals take the following steps to become more breastfeeding-friendly:
• Stop giving away baby formula samples
• Offer breastfeeding resources and support groups
• Conduct extensive follow-up after breastfeeding mothers and babies leave the hospital
• Encourage the rooming in practice
• Unless it is medically necessary, do not give breastfeeding babies formula or other foods
The CDC began the national maternity care survey in 2007 and collects data every two years. The survey was released during World Breastfeeding Week.
Sources:
"CDC Features - Hospitals Need Better Maternity Care Practices." Centers for Disease Control and Prevention. N.p., n.d. Web. 3 Aug. 2011.
http://www.cdc.gov/Features/VitalSigns/Breastfeeding
Varma-White, Kavita. "TODAYMoms - CDC to hospitals: Pump up your breast-feeding support." TODAYMoms. N.p., n.d. Web. 3 Aug. 2011.
http://moms.today.com/_news/2011/08/02/7230412-cdc-to-hospitals-pump-up-your-breast-feeding-support
"The Surgeon General's Call to Action to Support Breastfeeding." The Surgeon General. N.p., n.d. Web. 3 Aug. 2011.
http://www.surgeongeneral.gov/topics/breastfeeding/calltoactiontosupportbreastfeeding.pdf#page=54
"Breastfeeding: Data: mPINC | DNPAO | CDC." Centers for Disease Control and Prevention. N.p., n.d. Web. 3 Aug. 2011.
http://www.cdc.gov/breastfeeding/data/mpinc/index.htm
"Improving Hospitals' Support for Breastfeeding." Centers for Disease Control and Prevention. N.p., n.d. Web. 3 Aug. 2011.
http://www.cdc.gov/breastfeeding/pdf/mPINC/Maternity_Care_Practices.pdf
" CDC: Most hospitals don't encourage breastfeeding | wtsp.com." Tampa Bay Fl News | Connect to 10 News in Tampa, Sarasota, Clearwater, St. Petersburg, Florida | WTSP.com | Home. N.p., n.d. Web. 3 Aug. 2011.
http://www.wtsp.com/news/local/article/204164/8/CDC-Most-hospitals-dont-encourage-breastfeeding
"More Breast Feeding Could Save 900 Babies a Year - CBS News." Breaking News Headlines: Business, Entertainment & World News - CBS News. N.p., n.d. Web. 3 Aug. 2011.
http://www.cbsnews.com/stories/2010/04/05/health/main6364292.shtml
Reviewed August 4, 2011
by Michele Blacksberg R.N.
Edited by Jody Smith