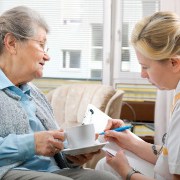 Photo: Getty Images
If your doctor has recommended home health care for you, or you think home health care might be a good option for you or your loved one (see Are You Ready for Home Health Care Checklist to see if you or your loved one might benefit), you may be wondering what happens next.
As a quick reminder, "[h]ome health care agencies provide in-home skilled nursing and other home health care services, such as physical and occupational therapy. Home health care agencies are licensed by the state, but must adhere to federal regulations as well." (Caring.com)
For you or your loved one to receive home health care services, your family doctor must prescribe the care. "Registered Nurses (RNs), Licensed Practical Nurses (LPNs) and Licensed Vocational Nurses (LVNs) provide the care, sometimes in conjunction with other health professionals. These providers may also enlist the assistance of a home health aide who can help with personal care such as bathing and using the toilet. Home health aides can also administer medication under the supervision of a nurse." (Caring.com)
Once you or your family member has been referred, the home health care agency will send someone, usually a nurse, to talk with you about your particular needs and answer any questions you might have.
Along with the original referral, your doctor will also prescribe how often home health care services should be provided, and as your care continues through the agency, services should be provided as per your doctor's recommendations.
Among the overall categories of services home health care nurses provide (see What you Need to Know About Home Health Care), he or she should also:
• Ask about and monitor what you are eating and drinking
• Check blood pressure, temperature, heart rate, and breathing
• Monitor and ensure that you are taking your prescriptions and/or applying other treatments correctly and as prescribed
• Monitor and ask about any pain
• Monitor and recommend changes to address any safety concerns in your house, inside and out.
• Teach you and/or your family about the care you need and how it should be done so that you or your family can take care of those needs
• Coordinate your care by communicating regularly with you, your family doctor and other medical specialists involved in your care, and anyone else who may be responsible for your care.
Obviously this is not an exhaustive or exclusive list, but it gives you a good idea of the kinds of things a home health staff person should be concentrating on and addressing as part of his/her responsibilities. If you notice that these things are being neglected, be sure to report it to the home health care agency, especially if the thing being neglected or not done correctly was prescribed by the referring family doctor or medical specialist. It is your right as a patient to have this treatment provided and have it provided properly and as prescribed. You are your own best health care advocate. Be aware of the care you need, how often your doctor has prescribed it, and don't be afraid to stand up when something isn't quite right.
Sources: Medicare.gov (http://www.medicare.gov/homehealthcompare/(S(hefybrivamfbt345d5qnwuur))/About/GettingCare/WhattoExpect.aspx);
Caring.com (http://www.caring.com/articles/home-health-care-expect)
Reviewed July 15, 2011
by Michele Blacksberg R.N.
Edited by Alison Stanton