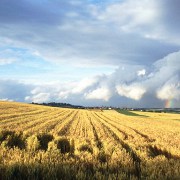 Photo: Getty Images
September is Whole Grain month and this is a good time to refresh our minds with the possible health benefits whole grains may bestow on us as food we could include in our diet.
According to the Whole Grains Council, whole grains and their edible derivatives contain all the essential components and naturally-occurring nutrients of the total grain seed. In case the grain has been processed to make an edible derivative product for consumption, then the final product should contain the same or similar balance of nutrients as were in the original grain seed.
(Source: Whole Grains Council; Report Title: Definition of Whole Grains;Year: May 2004 http://www.wholegrainscouncil.org/whole-grains-101/definition-of-whole-grains)
Current views among nutritionist backed by scientific evidence suggests that it may be wise to integrate whole grains in your diet as they have the potential to lower risks arising from coronary heart diseases, cancer and diabetes. They are also believed to contribute positively towards sustainable weight management programs and general wellbeing of gastrointestinal health.
(Source: Journal of Nutrition; Report Title: Putting the Whole Grain Puzzle Together: Health Benefits Associated with Whole Grains—Summary of American Society for Nutrition 2010 Satellite Symposium; Author(s): Satya S. Jonnalagadda,, Lisa Harnack, Rui Hai Liu, Nicola McKeown, Chris Seal, Simin Liu, and George C. Fahey; Year: May 2011)
So how much whole grain should we include in our diets to reap all the benefits that may be had from eating them? As per recommendations given in the Dietary Guidelines for Americans, 2010 issued by the U.S Department of Agriculture, persons should try to include more than 3 ounces of whole grains per day and up to a total of 6 ounces if they include all grains (whole and processed) in their daily food consumption.
(Source: Dietary Guidelines for Americans, 2010; Chapter Title: Building Healthy Eating Patterns;Year: January, 2011; Page 51; Table: 5-1)
http://www.cnpp.usda.gov/Publications/DietaryGuidelines/2010/PolicyDoc/Chapter5.pdf
Some examples of whole grains are amaranth, barley, buckwheat, corn, millet, oats, quinoa, rice, rye, sorghum, teff, triticale, wheat and wild rice.
Canary seed, Job's tears, montina, timothy, fonio, are considered whole grains if eaten with all of their bran, germ and endosperm.
The AACC International, the U.S. Food and Drug Administration or the Whole Grain Council do not consider oilseeds and certain legumes whole grains.
In a meta-analysis of seven major studies conducted in 2007, it was seen that cardiovascular disease (heart attack, stroke, or the need for a procedure to bypass or open a clogged artery) was 21 percent less likely in people who ate 2.5 or more servings of whole-grain foods a day compared with those who ate less than 2 servings a week.
(Source: Elsevier's Nutrition, Metabolism & Cardiovascular Diseases; Report Title: Whole grain intake and cardiovascular disease: A meta-analysis; Author(s): Mellen PB, Walsh TF, Herrington DM; Year: 2007)
INFORMATION IN THIS ARTICLE IS NOT MEDICAL ADVICE. ALL INFORMATION GIVEN IS TO BE CHECKED WITH YOUR DOCTOR BEFORE IMPLEMENTING OR TAKING THEM AS STANDARD OR VERIFIED.
Mamta Singh is a published author of the books
Migraines for the Informed Woman – Tips From A Sufferer:
ISBN: 978-81-291-1517-1 (Publisher: Rupa & Co. URL: http://www.amazon.com/Migraines-Informed-Woman-Tips-Sufferer/dp/8129115174/ref=sr_1_2?ie=UTF8&s=books&qid=1298990756&sr=1-2)
Mentor Your Mind – Tested Mantras For The Busy Woman: ISBN: 978-81-207-5973-2
(Publisher: Sterling Publishers; URL: http://www.sterlingpublishers.com/search_result.asp)
and the upcoming
The Urban Woman's Integrated Fitness Guide
(Publisher: Hay House India)
She is also a seasoned business, creative and academic writer. She is a certified fitness instructor, personal trainer & sports nutritionist through IFA, Florida USA. Mamta is an NCFE-certified Holistic Health Therapist SAC Dip U.K. She is the lead writer and holds Expert Author status in many well-received health, fitness and nutrition sites. She runs her own popular blogs on migraines in women and holistic health.
Mamta holds a double Master's Degree in Commerce and Business. She is a registered practitioner with the UN recognised Art of Living Foundation. Please visit www.mamtasingh.com
Reviewed September 1, 2011
by Michele Blacksberg R.N.
Edited by Jody Smith