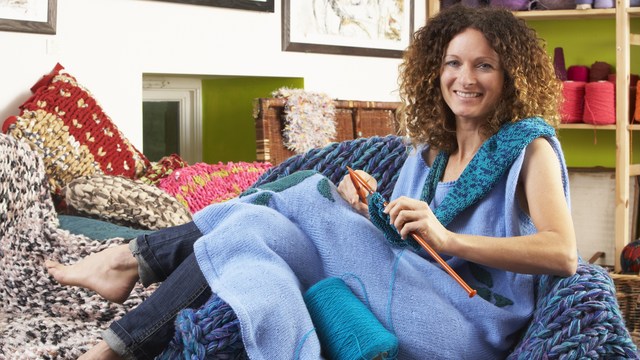 MonkeyBusiness Images/PhotoSpin
I didn't need to see the research on the restorative features of knitting to know it's really good for me. But it's nice to know about all the healthy benefits my favourite hobby brings my way. And it's not news to me that chronically ill people with time on their hands and worry in their brains feel better when they knit.
I have ME/CFS, and this has been my experience off and on over the past decade or so as I've applied my limited physical and mental resources to yarn and needles, making something out of nothing.
Having something concrete to show for my hours in a chair bucks me up like nothing else. Being able to present a gift to someone I love, especially when other resources are few and far between, is the icing on the cake.
Knitting's repetitive and rhythmic movement has been found to activate the parasympathetic nervous system. Always a good idea since this has restorative effects on our minds and bodies.
Dr. Herbert Benson of the Harvard Medical School theorized in the 1960s that meditative practices (like knitting) triggered a "relaxation response" decreasing blood pressure and heart rate, as well as decreasing symptoms of anxiety, depression and insomnia, according to an article on Sacbee.com.
Dr. Barry Jacobs of Princeton University discovered in animal research that the calming neurotransmitter serotonin is also released by repetitive movement, according to an article on Psychologytoday.com.
Sacbee.com reported that Carrie and Alton Barron, M.D.s, authors of "The Creativity Cure: Building Happiness With Your Own Two Hands," said knitting can enhance cognition, with increased activity in 60 percent of your brain, and the health of your hands, along with decreasing anxiety and depression.
Carrie said that your mind is kept busy with "the rhythmic, mathematical nature of knitting" and has less room for worry.
Alton Barron, orthopedic surgeon and president of the New York Society for Surgery of the Hand, recommends knitting as a way of preventing arthritis and tendinitis. He said that the finger action while knitting keeps joints hydrated as fluid is forced to move in and out of the cartilage.
A study performed by the Journal of Neuropsychiatry & Clinical Neurosciences in 2011 indicated that knitting could enhance neural pathway development, and aid in cutting down the risk for cognitive dysfunction and memory loss by 30-50 percent in later years.
A 2013 survey published in the British Journal of Occupational Therapy asked 3500 knitters about their mood before and then again after a bout of knitting. A significant improvement in mood was seen, with only 1 percent feeling sad and with 81 percent feeling happy after knitting, More than half of the participants said they were "very happy" after knitting.
The article on Psychology Today suggested that the act of looking from one side to the other as when knitting has proven to be beneficial for trauma victims according to therapists using Eye Movement Desensitisation and Reprocessing (EMDR).
Betsan Corkhill, a British physiotherapist has said that this type of eye movement can enhance memory by as much as 10 percent when it's done for just 30 seconds a day.
Corkhill said that knitting can be a great thing for people with time on their hands. Disabled or chronically ill people, or people who are out of work may find that knitting can help to fill empty hours and create a sense of purpose and accomplishment that may otherwise be lacking for them.
Catherine Carey Levisay, a clinical neuropsychologist said that the neurotransmitter dopamine, a natural antidepressant, is released by the reward center of your brain when you do things you enjoy, according to an article on CNN.com. Knitting exercises your memory and your attention span. It also requires creativity and your ability to solve problems.
Levisay said that knitting enhances "visuospatial processing" which is to say, you become more able to analyze and understand things like depth and distance perception, mental imagery and navigation. As you manipulate things in your world, and figure out how to create what you have in your mind's eye, you are using and developing these processing skills.
These researchers have all explained things better than I could. I would not have been able to put into words, in such detail, what happens to me when I knit. But I absolutely concur with them about the benefits as I click my needles on a shawl I will be mailing to my daughter who lives on the other side of the country.
Sources:
Health benefits for those who stick to their knitting. sacbee.com. Retrieved Oct. 19, 2014.
http://www.sacbee.com/news/local/health-and-medicine/article2610863.html
Should You Knit? Psychologytoday.com. Retrieved Oct. 19, 2014.
http://www.psychologytoday.com/blog/open-gently/201311/should-you-knit
This is your brain on knitting. CNN.com. Retrieved Oct. 19, 2014.
http://www.cnn.com/2014/03/25/health/brain-crafting-benefits/
Definition of Parasympathetic nervous system. Medicinenet.com. Retrieved Oct. 19, 2014.
http://www.medicinenet.com/script/main/art.asp?articlekey=4770
Learn more about Visuospatial Ability. Sciencedirect.com.
https://www.sciencedirect.com/topics/psychology/visuospatial-ability
Visit Jody's website at http://www.ncubator.ca
Reviewed October 20, 2014
by Michele Blacksberg RN
Tags: