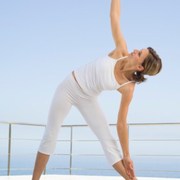 Photo: Getty Images
At the physical plane, yoga has some very effective workouts for all the major muscle groups of our bodies -- the arms, legs, chest and abdomen. In this article, I am sharing a fine pose, or asana, that should stretch your hamstring and lower back muscles beautifully, if done correctly.
This pose is called the Utthita Trikonasana in Sanskrit or the extended triangle pose. This pose also works the muscles of the hips in the standing position while executing the triangular shape of the pose.
This asana will work on the muscles of your thighs or quadriceps as well as work the muscles of the hips, hamstrings and inner thighs (adductor magnus). (1)
Here is how you can execute the extended triangle pose:
1. Lay out your exercise or yoga mat on an even floor.
2. Stand erect in the mountain pose or Tadasana (i.e stand straight with your chest out, legs together and arms by your sides).
3. Slowly spread your legs about two to three feet apart. At this position, turn your left foot slightly inwards towards the right. Turn your right foot outward so it now points to the right side.
4. Extend your arms out to your sides in a T-shape. The fully extended arms should be parallel to the floor.
5. Bend at your hips and lean in towards your right side, keeping your spine straight while bending.
6. As you bend, lower your right hand towards your right shin and let your left hand point towards the ceiling.
Note: If you wish to make the asana more intense, you can touch the floor next to your right foot with your right hand. Even in this position, your arms will be in a straight line. However, to begin with, keep the asana simple, without adding this intensity to it.
7. Tuck in your abdominal muscles to support your spine.
8. Turn your head gently to gaze at the fingertips of the left hand. In this position, you will feel the muscles of your entire left side (neck, arm, back and side) engage in a stretch.
9. Hold this position for 5 to 10 seconds or till the time you are comfortable.
10. Release this asana by bringing your left hand down, turning your head to look down, bringing your right leg to its original position and straightening your hip.
11. Repeat the same movements for the other leg.
This asana may be done three times for each leg. (2)
Other muscles, which are worked out while executing the extended triangle pose, are those of the neck and the upper limb abductors.
Caution:
It is important to be mindful of the degree of extension your (extended) knee can undergo. To avoid hyperextension and injury to the knee of the leg that has been extended, the practitioner will need to keep her hamstrings active (as opposed to locked and tight) in this leg.
SOURCE:
1. Extended Triangle Pose - Utthita Trikonasana; YogaAbout.com; October 2011;
http://yoga.about.com/od/yogaposes/a/triangle.htm
2. How To Do the Extended Triangle Pose; HowCast.com; October 2011; http://www.howcast.com/videos/224-How-To-Do-the-Extended-Triangle-Pose
INFORMATION IN THIS ARTICLE IS NOT MEDICAL ADVICE. ALL INFORMATION GIVEN IS TO BE CHECKED WITH YOUR DOCTOR BEFORE IMPLEMENTING OR TAKING THEM AS STANDARD OR VERIFIED.
Mamta Singh is a published author of the books
Migraines for the Informed Woman – Tips From A Sufferer: ISBN: 978-81-291-1517-1
(Publisher: Rupa & Co. URL: http://www.amazon.com/Migraines-Informed-Woman-Tips-Sufferer/dp/8129115174/ref=sr_1_2?ie=UTF8&s=books&qid=1298990756&sr=1-2)
Mentor Your Mind – Tested Mantras For The Busy Woman: ISBN: 978-81-207-5973-2
(Publisher: Sterling Publishers; URL: http://www.sterlingpublishers.com/search_result.asp)
and the upcoming
The Urban Woman's Integrated Fitness Guide (Publisher: Hay House India)
She is also a seasoned business, creative and academic writer. She is a certified fitness instructor, personal trainer & sports nutritionist through IFA, Florida USA. Mamta is an NCFE-certified Holistic Health Therapist SAC Dip U.K. She is the lead writer and holds Expert Author status in many well-received health, fitness and nutrition sites.
She runs her own popular blogs on migraines in women and holistic health. Mamta holds a double Master's Degree in Commerce and Business. She is a registered practitioner with the UN recognised Art of Living Foundation. Please visit www.mamtasingh.com
Edited by Malu Banuelos