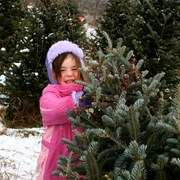 Photo: Getty Images
A few precautions will keep your child's asthma and allergies in check this holiday season. The American College of Allergy, Asthma and Immunology (ACAAI) cites Christmas trees, both live and artificial, as a common trigger for symptoms. A person may be sensitive to the oil, sap or pollen and mold found on some live trees or garlands.
ACAAI suggests using a leaf blower on a live tree while it is still outside to remove pollen. You can also wash the trunk and allow to air dry before installing it inside. Artificial trees are not much safer, as they can gather molds and dust while stored. ACAAI also recommends washing artificial trees and storing them in airtight bags.
The Allergy and Asthma Health Site recommends eliminating live Christmas trees completely in households with asthmatic children as the trees can trigger an asthma attack that could require hospitalization. The Allergy and Asthma website also warns families that the lovely poinsettia plant can trigger a reaction in a person with a latex allergy. The beautiful Christmas cactus may also trigger an eye allergy in those sensitive to it.
Both allergy and asthma symptoms can be brought on by wood or gas stoves and fireplaces. Scented candles, fake snow from the spray can, and simmering potpourri can also trigger allergy and asthma symptoms, according to ACAAI.
Don't let the busy, bustling, and sometimes stressful, holiday season distract you and your child from taking any recommended allergy and asthma medication. Don't skip doses, and stay on top of any asthma maintenance program so your child can enjoy the magic and fun of the holiday season.
Sources:
Allergy and Asthma Health. Tips for the Holiday Allergy and Asthma Season. Web. 16, Nov. 2011.
http://www.yourlunghealth.org/healthy_living/aah/11.08/articles/holiday_tips/
American College of Allergy, Asthma and Immunology (ACAAI.) Avoiding Holiday Asthma and Allergy Triggers. Web. 16, Nov. 2011.
http://www.acaai.org/allergist/news/New/Pages/avoiding-holiday-asthma-allergy-triggers.aspx
Reviewed November 17, 2011
by Michele Blacksberg RN