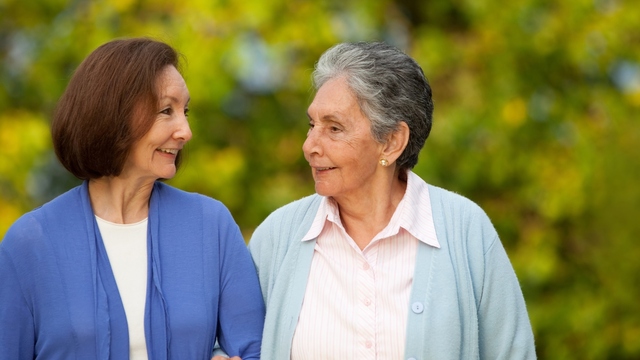 Andres Rodriguez/PhotoSpin
For four years, I lived with and helped to take of my grandmother until she passed away in my arms, three years before her one hundredth birthday. I was deeply honored to be able to spend the last years of her life with her taking care of her.
Approximately three months later I could barely make it through the day from the mental and physical exhaustion I was experiencing. Being a caregiver for her all the time bankrupted my energy and left me with a thyroid problem and nutritionally deficient.
My story, unfortunately, is a common one for many caregivers, especially those caring for aging parents or older adults.
The definition of caregiver is broad -- one who cares for another. A caregiver gives assistance to another person who is not able to perform daily tasks required to take care of their household or personal hygiene.
Supporting another by assisting them with their personal and household activities can be an emotional and physically stressful experience.
Here are some symptoms to watch out for monitor your own stress level:
• Feeling tired or exhausted most of the time
• Feeling overwhelmed and irritable toward others
• Changes in sleeping patterns – either sleeping too much or not enough
• Changes in weight – either gaining or losing weight
• Losing interest in activities you once enjoyed
• Experiencing anxiety or mild depression
• Not maintaining sound lifestyle behaviors like healthy eating, sleeping or physical activity
It is important for caregivers to take steps to preserve their health so they can continue to care for their loved ones. Here are suggestions of how to manage the workload of caring for another.
Don't give in to guilt
Guilt can cause you to take on more responsibility than you can handle. So don't give in to guilt. You have to prioritize the most important tasks for your life and the person you are caring for. Do those tasks first and then if you have time and the energy, accomplish other tasks on your list.
Get help from others
Be creative in finding ways to accept help from other people. Perhaps you can have a friend or family member do some grocery shopping.
Consider joining a support group
Support groups can give you some perspective on what you are going through as a caregiver. They can also give suggestions on how to handle common situations that show up in your life while taking care of your family members.
Learn more about the disease processes
Some organizations or hospitals may have groups or classes about a specific disease that give important information about how the disease could progress.
Stay connected
Remain connected with your personal support system, friends and family. Social relationships are an important way to remove stress.
Consider health care facilities
If the responsibility is too much for you to handle you must consider a health care facility where you have trained workers to look after your loved one. Many people don't want to entertain this option but it may be best for you and your loved one.
Being a caregiver is an awesome responsibility. It can be very rewarding and taxing at the same time. You must consider the amount of emotional and physical energy it requires to manage two household and two personal schedules. It can be overwhelming.
Take time to create a plan that allows you and your loved one the best health outcomes possible. You will both be happier and feel supported in the long run.
Live Vibrantly,
Dr. Dae
Dr. Dae's website: www.healthydaes.com
Dr. Dae's book: Daelicious! Recipes for Vibrant Living can be purchased @ www.healthydaes.com
Dr. Dae's Bio:
Dr. Daemon Jones is your diabetes reversal, hormones, metabolism and weight loss expert. Dr. Dae is a naturopathic doctor who treats patients all over the country using Skype and phone visits. Visit her or schedule a free consultation at her website www.HealthyDaes.com
Sources:
"Stress Management." Caregiver Stress: Tips for Taking Care of Yourself. Web. 5 Nov. 2014.
http://www.mayoclinic.org/healthy-living/stress-management/in-depth/caregiver-stress/art-20044784
"Caregiver Law & Legal Definition." Caregiver Law & Legal Definition. Web. 5 Nov. 2014.
http://definitions.uslegal.com/c/caregiver
Reviewed November 5, 2014
by Michele Blacksberg RN
Edited by Jody Smith