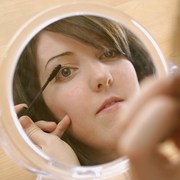 Design Pics/PhotoSpin
Ever gotten inspired to make your own facial mask, hair conditioner or lip gloss? These products can be made safely.
However, nix any idea of making your own mascara. Anything used so close to the eye needs special consideration.
Beautybrains.com is a website that helps consumers look at the science behind why various products have certain ingredients and helps us decide whether the claims a product advertises can really deliver.
They recently posted a warning for people not to follow the instructions on this site as to how to make one's own mascara.
There are several problems with making your own mascara.
First, the aloe vera gel the writer suggests has these preservatives in it: potassium sorbate, citric acid and xanthan gum.
Usually people make their own makeup to get away from the preservatives in commercial brands.
However, not only are there preservatives used in this aloe vera gel, but these are not the typical preservatives used in regular mascara, according to beautybrains.com.
Typical preservatives for mascara are: imidazolidinyl urea, methylparaben, propylparaben, and phenoxyethanol.
That means that using this aloe vera gel for eye makeup exposes your eye to more risk of irritation from chemicals not used in products applied to eyelashes.
Next, activated charcoal is not a substance that is approved as a colorant for near one's eyes. The FDA requires that companies use colorants for mascara which are certified to be safe for use so close to the eye.
Activated charcoal is a gritty coarse substance that may have other contaminants in it since its intended use is to absorb poisons or toxins that have been swallowed or as a material to filter liquids.
There are written safety precautions used by companies that sell chemicals that warn to keep activated charcoal away from one's eyes due to irritation risk. If activated charcoal gets in the eye, thorough flushing is needed and medical attention should be sought.
So this "do it yourself" mascara contains a gel with the wrong type of preservatives to be used near the eye and a substance that, if gotten in the eye, can be so irritating that immediate flushing is required to prevent damage.
Never mind that the activated charcoal may cause an eye infection from any bacteria present in the capsules since they are not sterilized.
Upon searching, I found other websites that also suggested using activated charcoal around the eye such as this one and this one.
It may seem like fun to make your own masacara and create a smokey eyelash look but it could quickly turn into a visit to the emergency room.
Don't take the chance.
If you want to have fun making your own makeup, stick to recipes such as these endorsed by The Campaign for Safe Cosmetics, which is an agency that takes our health very seriously.
They have a mission "to protect the health of consumers and workers … to eliminate dangerous chemicals from cosmetics and personal care products".
Sources:
Is DIY Macara Safe? by THEBEAUTYBRAINS on JANUARY 15, 2013. Retrieved Jan. 29, 2013.
http://thebeautybrains.com/2013/01/15/is-diy-macara-safe/#comments
DIY Recipes. SAFE COSMETICS ACTION NETWORK. Retrieved Jan. 29, 2013.
http://safecosmetics.org/article.php?id=233
Natural Homemade Mascara. Passionate Homemaking. Retrieved Jan. 29, 2013.
http://www.passionatehomemaking.com/2010/11/natural-homemade-mascara.html
Wholesale Chemicals Activated Carbon. Continental Chemical USA. Retrieved Jan. 29, 2013.
http://continentalchemicalusa.com/bulk-chemicals/activated-carbon.php
Michele is an R.N. freelance writer with a special interest in woman's healthcare and quality of care issues. Other articles by Michele are at www.helium.com/users/487540/show_articles
Edited by Jody Smith