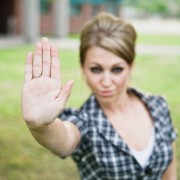 Photo: Getty Images
Raise your hand if you are stressed because people you care about are pulling you in too many different directions! Hmm… I thought so. A lot of you are!
Your aging parents, your spouse, your children, your boss, your customers, your friends… it never ends, does it? Not only do they all want something from you, but they all want something different. Sometimes it seems like you just can't accommodate everyone even though you'd like to, and it's very frustrating and stressful trying to. How can you possibly do everything that's asked of you?
The answer is simple. You can't.
Let's say you have to take your daughter to ballet and your son to soccer practice (I know some of you out there are "soccer moms" – it's okay, really!) and you find out that your father isn't well enough to take your mom to her doctor appointment, and then your friend calls to cry on your shoulder about her latest fight with her boyfriend.
Or, for the men, your job requires overtime that will conflict with your son's little league game and celebrating your wedding anniversary, plus you have repairs and other "manly-things" to do around the house.
If you can figure out how to do all of these things at the same time, please contact me and we can make a lot of money together.
Let's change the scenario a little and say that these things can actually all be scheduled in a single day without overlap. You still can't do it all. You've got to eat and breathe and have enough energy left so you don't fall asleep at the wheel, literally.
What to do? Get over it.
Face the reality that you can't do everything you'd like to; make good choices, and say no when you have to without feeling guilty about it. If someone asked you to walk on the moon you couldn't do it, could you? It's out of your hands: nature, science, and current technology prevent it. This scenario is exactly the same: you just can't physically meet all of the demands and it's out of your hands. Nature and current technology are forces you can't overcome.
Remember that if people don't understand when you say no, it's their problem. You have to take care of yourself and your own priorities; people who don't understand are thinking only of their own priorities and frankly I think that's selfish. They don't deserve you.
You can do this. There are two facets, the first of which is the hardest: stay aware of your limits and your responsibility to stay within them. The second part is to have the self-confidence to say no when you have to. If you truly understand your limits and your responsibility to say no, then you will have much more confidence when making your choices.
Would you have any trouble saying no to someone who asked you to walk on the moon for them? Would you feel guilty about it? Even if they pleaded, "Pretty please?" Of course not; you simply can't do it. The same is true with too many commitments. You simply can't do it all.
Dealing with cancer, some other major illness, or life in general? Our free daily tips will help you cope: sign-up at http://www.CopingQuickies.com For even more stress management tips and techniques visit http://www.CopingUniversity.com where world-class experts share their wisdom to help you cope. Hours of FREE online audio programs will help reduce your stress and restore your hope. Topics are unique, unusual, fascinating, and just plain fun! Learn how to find humor when nothing seems funny, how to love the way you look no matter what, and how to be romantic even during a serious illness. Our online content is always free, so visit today! And, check out our YouTube channel for entertaining coping ideas: http://www.YouTube.com/copinguniversity