Celebrating Life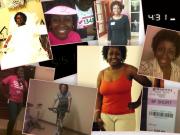 By
Madeline Long-Gill
Blogger
May 15, 2011 - 7:14pm
Hi Ladies!
When I started the group, it was because I think so often society focuses and tries to keep you stuck in the negative. I chose not to live in that space because honestly NOTHING GOOD WAS COMING FROM IT! Well, I thought it would be great to share how we are celebrating life after abuse and maybe we could help one another :)
I will go first....:)
I started an organization in 2006 (Every Step Counts) to provide more awareness, create fun filled events to help end violence against women and children and lastly to help celebrate the lives of survivors of abuse! I think this is the most rewarding thing I have ever done and I love that I get to wake up every day thinking of ways to end violence against women & children. I pray that one day I run out of things because the rate of abuse has declined and my services are no longer needed.
Who's next?
Stay EmPowered!