Your motivation and exercise of choice?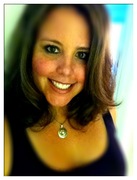 By
Swimrunner08
April 15, 2011 - 3:08pm
What is your motivation to get up and get to the gym, take that walk outside, or hit the yoga studio? What is your favorite type of physical activity?
I personally love the phrase - you can have results or excuses. NOT both. And... from none other than Jillian Michaels:
"If you let go of the old conceptions of yourself, you can maintain an open mind and be open to all possibilities. What we believe about ourselves dictates the way we interact with the world. It is imperative that you let go of the past in order to re-create yourself in the present."