Homeward Bound: Why Women are Embracing the New Domesticity, Emily Matchar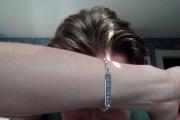 By
Jessica A Bruno
June 17, 2013 - 11:10pm
Just started reading this particular book, but felt I need share what I think of it so far.
Thank you, Ms Matchar for writing a book on this particular subject. I for one is very passionate about particular subject for long as I can remember. At the same time I for one still waiting for my Mr. Right to come along, sweep me off of my feet, and beyond. I'm founding all of it being more repetitive then anything else. The author being more liberal then conservative in the book. Especially, with the vaccination area of it and doesn't even bring circumcision part of it. Also, would love if she bought up doulas, midwives, midwifery, and beyond into it because they are just as important everything else that she has bought so far. In which I wish that she would have done a better job of learning and researching along with everything else did. Because theres more all of this then what she bought up. I should know since I have been learning, researching, and beyond all of this quite some time now. Well, not in depth, but scratch the surface of it. I do plan on reading the rest of it after no matter what and reviewing it at the end of it.
Think thats it for now.