No Easy Choices on Breast Reconstruction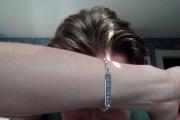 By
Jessica A Bruno
May 21, 2013 - 4:12pm
Have I praised Ms Jolie for this, but at the same time I don't. Basically, I found theres more risks then benefits for having this done. Including BRAC II and all of the other testing thats out there for both cancers because my results that I have a risk for breast cancer, but no risks for ovarian. Even though I know thats theres history of breast cancer on my mother's family and one of her doctors has recommend it to her to get it done. At the same time she does indeed has stage IV ovarian cancer, survive it, and etc along those lines. Would love if Ms Jolie of it would have done more of though learning and researching in regards to all of this. Not just in this particular area, but others and etc. Because I do know for a fact theres even more to all of this. It includes men, children, babies, and etc. Especially, looking into both the alternative, mainstream, and etc lifestyles. In which she incorporates into her next book/s because I'm really passionate about all of these rights and issues. Including all living things and etc.
http://well.blogs.nytimes.com/2013/05/20/no-easy-choices-on-breast-reconstruction/?smid=pl-share
No Easy Choices on Breast Reconstruction
While a recent article by Angelina Jolie about her mastectomy and reconstruction raised awareness, it may have left the impression that the surgeries are quick and easy procedures, some doctors fear.