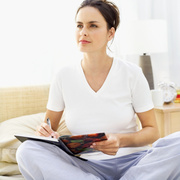 Stockbyte/Thinkstock
For any of you wanting to simplify your management of irritable bowel syndrome, there is an easy-to-remember phrase that health experts use: the three F's, namely, fluid, fitness and fiber.
Registered dietitian Lindsay Adams used the phrase in a recent column in the Victoria (Texas) Advocate:
"Always remember the three F's of bowel function: fluid, fitness and fiber," Adams writes. "Fluid and fitness are easy; just make sure to drink adequate fluids, approximately six to eight cups daily, and incorporate physical activity into your daily routine."
As for fiber, Adams continues, "Adults should typically aim for approximately 25-38 grams of fiber daily. Foods that are high in fiber include fruits, vegetables and whole grains."
Her additional advice is to cut back on fiber if you are experiencing temporary trouble with IBS, especially diarrhea-predominant IBS, and to avoid foods that are high in fats and sugars.
Similar advice comes from the Cleveland Clinic website, where a list of do's and don'ts under the heading of "How Can I Gain Control Over IBS?" says to increase fiber and to drink three to four glasses of water per day.
Limit milk products and caffeine, the Clinic says, and learn to relax, either by increasing your physical activity or reducing the stress in your life.
A food diary might be helpful in finding the triggers for your IBS. Common irritants include red peppers, green onions, red wine, wheat and milk, according to the Clinic.
Consistently remembering the three F's can help manage the irregular bowel functioning, abdominal pain and cramps, nausea, gas and bloating often associated with irritable bowel syndrome. The idea is to be proactive about "normal colon motility," as gastroenterologists call it.
Motility refers to the contraction of intestinal muscles -- through your nervous system, hormones and electrical stimulation -- that moves waste contents through your digestive system. Fluid, fitness and fiber all contribute to the process. Colon dysmotility, however, is a common factor in irritable bowel syndrome.
Many experts classify IBS into three types: diarrhea-predominant, constipation-predominant or a mix of the two. The American Gastroenterological Association also mentions IBS-alternate, in which diarrhea and constipation alternate over time, and IBS-unspecified, in which there is no clear pattern.
With the help of a health care practitioner and dietitian, IBS of any type usually can be managed. And because IBS affects tens of millions of Americans, researchers are always testing new drug therapies. In addition, many IBS patients find help through meditation, counseling and other psychological treatments.
If you are an IBS patient, though, be on the lookout for rectal bleeding, severe pain, fever, significant weight loss, low blood count, or a family history of cancer, all of which will prompt a doctor to conduct additional tests to rule out other digestive conditions or diseases.
Sources:
Adams, Lindsay. "Dietitians Dish: Better diet can mean better bowel function, quality of life." VictoriaAdvocate.com. Web. 30 April 2012. http://www.victoriaadvocate.com/news/2012/mar/20/gl_dietitian_dish_032112_170692/?news&health
"Diseases & Conditions: Irritable Bowel Syndrome (IBS)." ClevelandClinic.org. Web. 30 April 2012. http://my.clevelandclinic.org/disorders/Irritable_Bowel_Syndrome_IBS/hic_Irritable_Bowel_Syndrome_IBS.aspx
"IBS: A Patient's Guide to Living with Irritable Bowel Syndrome." American Gastroenterological Association Patient Center. Web. 30 April 2012. http://www.gastro.org/patient-center/digestive-conditions/irritable-bowel-syndrome#Treatment
Reviewed May 1, 2012
by Michele Blacksberg RN
Edited by Jody Smith
Tags: